Class Book Awards
Like the Caldecott or Newbery Medals, students celebrate their favorite books by holding their own class book awards, complete with a ceremony announcing the winners.
Quick links to lesson materials:
Objectives
Students will:
Evaluate and reflect upon the books that they are reading
Develop criteria for various Class Book Award categories
Nominate books that they feel are worthy of Class Book Award status
Read books recommended by fellow members of a reading community
Vote to determine which books will receive Class Book Awards
---
Lesson Resources
Materials
Chart paper and marker
Copies of the ballot, one for each student. Look at the Sample Ballot (PDF) for a model of what your ballots might look like.
Frames (optional for bulletin board display in Part 3)
Scanner or color copier for making copies of book covers for bulletin board display
Large envelopes for books used in Book Award ceremony (Part 5)
Set Up and Prepare
Read aloud books that have been awarded Caldecott or Newbery Medals so that students are familiar with the books when it comes time to discuss the award criteria.
Create a Class Book Award Bulletin Board (Part 3).
Come up with your own Book Award categories to use a model for your students (Part 3).
---
During Instruction
Directions
Part 1: Becoming Familiar With Notable Book Awards
Step 1: Ask students if they have ever read a book that has a picture of a medal on the front cover.
Step 2: After some discussion, hold up some books from your classroom library that have been awarded either the Caldecott Medal or the Newbery Medal, preferably books with which your students are familiar.
Step 3: Provide students with some background information about the Newbery or Caldecott Medals, and explain the criteria used to choose which books receive these awards each year.
Step 4: Once you have chosen one of the book awards to study, pick one award-winning book with which students are familiar and discuss why students think the book was chosen, based on the criteria you have shared with them. (If you choose the Caldecott Medal, you will look closely at the pictures and discuss what makes the pictures so wonderful. If you choose the Newbery Medal, you will think more deeply about the text and discuss what makes the story so original or memorable. If you choose the Coretta Scott King Award, you will look more closely at the book's theme.)
Step 5: Explain to the members of your reading community that they will be celebrating their own favorite books by choosing books each month (or every two months) to receive a Class Book Award, created and designed by the students themselves.
Part 2: Naming and Designing the Award
Step 1: Draw students' attention to the medals that are placed on the cover of pre-selected library books that have received Newbery, Caldecott, or Coretta Scott King Awards.
Step 2: Explain to students that the Class Book Award will be different, so it will need its own special name and its own special seal.
Step 3: Make a list of students' suggestions for the award name, and then hold a class vote to determine the final name of your Class Book Awards. (My class book awards are called Newiberry Awards because my last name is Newingham.)
Step 4: (Optional) You can also have a medal design contest where each student designs a medal with the chosen name of your class book awards. Since the medal will be awarded to new books each month, you can scan the winning student's medal onto your computer and print the picture on removable labels that can be placed on winning books throughout the year. You could also just glue or tape the copies of the medal on the cover or inside of the books.
Part 3: Creating Book Award Categories
Step 1: To make the Class Book Award process more exciting, my class chooses four to five categories each month. Winners in each category will receive a class book award at the end of the month.
Step 2: Using chart paper, I make a list of students' suggestions for book award categories. While the ideas for new categories are endless, here are some categories my class chose last year:
a. Best Fiction Series
b. Best Illustrations
c. Most Humorous Picture Book
d. Best Lesson Learned
e. Book With the Bravest Character
f. Most Unpredictable Story
g. Favorite Action-Adventure Chapter Book
h. Favorite Mixed-Up Fairy Tale
i. Most Interesting Biography
j. Book With a Character Who Changes the Most From Beginning to End
k. Book With the Best Hero
l. Book With the Best Example of Teamwork
m. Book With the Most Descriptive Language
n. Best Holiday Story
Step 3: After you have many ideas for categories written on the chart paper, have each student vote for his or her favorite two categories. Choose the four or five categories that receive the most votes. These will be the book award categories that students will focus on this month. (As the teacher, you may also feel the need to determine one of the categories yourself if you are focusing on specific character traits or other features of text in reading or writing workshop.)
Step 4: For each of the final categories, hold a brief discussion about what would make a book worthy of a nomination in each category. (This is like setting criteria for the awards so that students are more selective when nominating books.)
Teacher Tip: Before my class ever voted on book award categories, I actually created my own categories and set up the Newiberry Book Award Bulletin Board so that my students could visualize the end result of this activity. I used frames from a dollar store to hold color copies of the books I chose as my own favorites for the categories that I came up with myself. This created excitement and buzz within the reading community because they were both interested in my favorite books and more eager to create their own categories.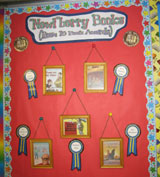 All books that receive awards are
added to our Class Book Award display.
Part 4: Book Nominations and Final Voting
Step 1: Once the class has determined the four or five categories for which books can receive book awards, you will need to explain to them the process of nominating books during independent reading time.
Step 2: Designate a place in your classroom where you will post book nomination forms for each book award category. Show students a copy of one of the forms and model how you would nominate a book for a particular category.
Step 3: Since students will be voting on the nominated books at the end of the month, you should encourage readers to look at the nomination forms often and try to read some of the nominated books that they have not yet read so that they will be more prepared to vote. (Of course, students will not have read every book that is nominated, but you will be surprised at the eagerness of students to read books that have been nominated by their peers. Again, this activity is strengthening your reading community because the nominations create excitement and buzz about reading.)
Step 4: After a book is nominated, students should place the book in a special basket labeled "Nominated Books," so that other readers can easily access the nominated books.
Step 5: At the end of the month, remove the nomination forms and create a ballot that includes all books that have been nominated in each category.
Step 6: Pass out the final ballots and have students place their votes. I allow students to vote for two books in each category. See Sample Ballot (PDF) for an idea of how you might structure your ballots.
Teacher Tip: Refer to the nominations often throughout the month so that the excitement level remains strong. You will find that there are many nominations in the first week and fewer as the month goes along unless you make an effort to draw regular attention to the nomination forms.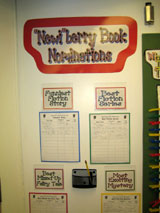 All nomination forms are posted
in a special area in the classroom.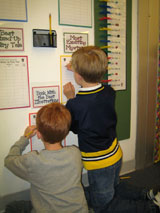 Students nominate their favorite
books in different categories.
Part 5: Book Award Ceremony
Step 1: Once you have tallied the votes from the ballots, it is time to hold a Book Award ceremony. I try to make this as exciting and authentic as possible. I use a podium for presenters to stand behind when announcing the winners, and I use a fake microphone when I am "hosting" the ceremony. Presenters also use the microphone when announcing the winners.
Step 2: I purchased large colored envelopes (large enough to store books) from an office store and put the winning books into separate envelopes prior to the ceremony. I write the name of the category in the front of the envelopes.
Step 3: I draw names to select two presenters for each category before the ceremony.
Step 4: I print copies of the nominees for each category so that the presenters read all of the nominees before the presenters open the envelope and hold up the winning book.
Step 5: I try to make the ceremony as exciting as possible with award show music and a decorated podium. After welcoming students to the ceremony, I announce each category and invite the pre selected presenters for each category to come to the podium one at a time. One presenter reads the nominees and the other presenter opens the envelope to reveal the winning book. (It is fun to see how excited the class gets about the winning books.)
Step 6: The cover of the book that wins in each category is color copied, placed in a frame, and added to the Book Award Bulletin Board in our classroom (See Part 3). I also place blue ribbons next to the framed books to indicate the category in which the books won. The winning books remain on the bulletin board until the next awards ceremony when new book award winners are determined.
Step 7: The actual winning books are returned to the classroom library with an award medal attached to the cover of the book (see Part 2 of the lesson). I make sure the year is included on the medal so that students in years to come will know that this book received a class book award from students in a previous year.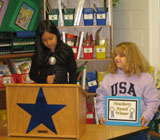 Student presenters announce
the nominees.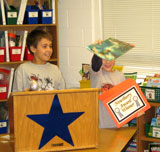 And the winner is. . .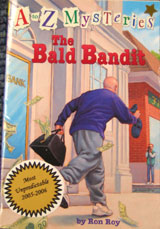 Book medals are bestowed upon
winning books each month.
Supporting All Learners
I like this activity because it allows students of all different reading abilities to take part in a collaborative activity. If some books are nominated that I know some readers would have a hard time reading, I may choose to read them aloud or include them as a book read with certain students in a guided reading setting.
Home Connection
In your weekly or monthly newsletter, include regular updates about the Class Book Awards, including the new categories at the beginning of each month, updates about nominations during the month, and, of course, the winners at the end of each month. If you do not send home a newsletter, consider creating a Class Book Award note that goes home at the end of each month with monthly winners and new categories. Parents can get in on the fun by helping their children talk about the categories when reading books at home.
Assignments
Students are expected to take part in the book award activity by nominating books and attempting to read some books that are nominated by their peers. All students take part in the final voting.
Evaluation
Are my students able to come up with original categories for the nominations each month?
Are all students participating in the nomination process?
Am I encouraging students to refer to the nomination forms often to maintain the initial excitement of the monthly categories?
Are monthly book awards too much? Should I do it bi-monthly?
Are the Class Book Awards strengthening my reading community?
---
Post Instructional
Lesson Assessment
I assess my students as a class during this activity. The goal is to strengthen the reading community in my classroom. If the nominations are creating excitement about books, and students are choosing to read nominated books, I consider this activity a success. I do pay attention to who is nominating books to make sure that all students are taking part in the nomination process.
---