From

Create Art From Mystery Objects
The outcomes are up to children as they work with the contents of their surprise bags!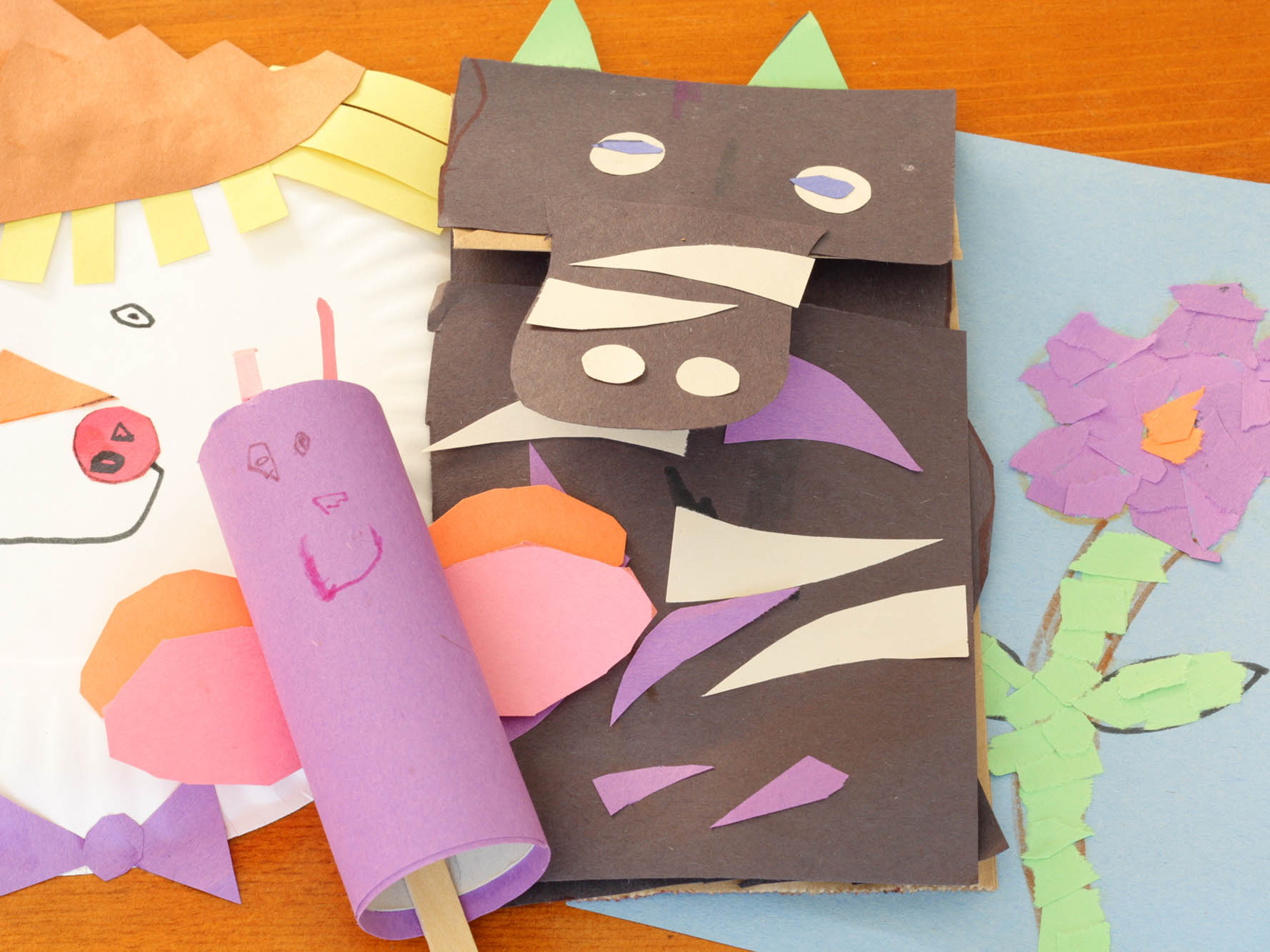 Objectives
Students will:
Develop creative-thinking, fine-motor, and language skills

Use different materials to create individual art projects
---
Materials
Lunch-size brown paper bags
Items such as paper tubes, sections of egg cartons, foil, cellophane, fabric, gift wrap, feathers, sequins, yarn, bubble wrap, paper plates, Styrofoam cups, pipe stems, stickers
Glue sticks
Child safety scissors
Markers and crayons
During Instruction
---
Set Up
Place different items into individual brown bags for each child. Vary the items in each child's bag to encourage different types of experiences.
---
Lesson Directions
Step 1: Explain to children that they will each get a surprise bag full of art materials. Tell them that they can use the materials to create their own special art project. They can create whatever they want. It can be a flat collage or they can make a sculpture.
Step 2: Provide children with space to work. Circulate and provide assistance where needed.
Step 3: When children have finished creating their artwork, ask them to write about it. They can write about how they made their work, what materials they used, or they can make up a story to accompany the work. Encourage them to use invented spelling and to be creative. Assist those who need it with their writing.
Step 4: Invite children to share their work with the group. Encourage them to describe how they made their artwork. Find an area in the classroom to display the children's artwork and writing. Invite family members to view the work.
Step 5: Put together another surprise art bag to send home as a family activity. Invite children and families to work together to create a family art project. Include their take-home activity with their classroom display.
---
Lesson Extensions
Curriculum Connection: Literacy
A Grab Bag Story

Cut out a variety of high-interest pictures from magazines or catalogs and place them into a brown paper bag. Ask each child to pick a picture from the bag. Invite them to write or tell a story about the picture they chose.
Recommended Books
Alexander Calder and His Magical Mobiles by Jean Lipman
Draw Me a Star by Eric Carle
Matthew's Dream by Leo Lionni
---