Apples, Peaches, Pears, and Plums, Tell Me When Your Birthday Comes!
Use this lesson to celebrate your students' birthdays while reinforcing math operations and vocabulary skills.
Quick links to lesson materials:
Objectives
Students will:
Listen to the selected story for information
Discuss the difference between a fiction and nonfiction book
Record information to contribute to the class graph
Use math vocabulary to ask and answer questions about the class graph
Use math vocabulary to compare and contrast information presented in the class graph
Introduce the months of the year and the abbreviations for the months
---
Materials
Happy Birthday! by Gail Gibbons
Bulletin board paper to create graph
Student-colored birthday cakes from the Birthday Cake Coloring Page printable should be cut out and ready to be glued onto the graph
Pencils, glue, tape, crayons, markers, colored pencils
Chart paper
Index cards
Optional: Birthday Months Graphing Worksheet printable
During Instruction
---
Set Up
Have the book, butcher paper, glue, and markers ready to use.
---
Lesson Directions
Step 1: Teach students the traditional jump rope chant "Apples, peaches, pears, and plums. Tell me when your birthday comes!" Then sing the chant and ask a student to name their birthday by referencing your classroom birthday chart. You will be surprised at how many students do not know their actual birth date, so you will have to help many students answer the question. Be sure that all students have an opportunity to say their birthday.
Step 2: Have the students come to the community area, sitting in a large circle around a long piece of butcher paper.
Step 3: Tell students that we are going to create a class graph using the information that we learned about our birthdays yesterday.
Step 4: Show the class each student's colored birthday cake with their name and birthday.
Step 5: Remind students of the graph that we created about our names and ask them what is the first thing we need to write on our graph so people know what it is about.
Step 6: Write the title "Happy Birthday To Us!" across the top of the butcher paper, having students help you sound out each word.
Step 7: Ask students what information should be added to our graph next. Tell students that the months of the year are very long words and that you would like to teach them a shorter way to write these words called an "abbreviation". Explain that the abbreviation for each month shows only the first three letters of each month with a period on the end.
Step 8: Have students decide what each months abbreviation would be and choose one student to write each abbreviation across the bottom of the butcher paper.
Step 9: Hold up one cake at a time and ask the student to repeat their birthday and ask them to glue it above the correct month.
Step 10: Once the graph is complete ask questions to compare information shown on the graph.
How many students have birthdays in August?
Which month has the least student birthdays? Which has the most?
Which month has no birthdays?
Which months have the same amount of birthdays?
How many more student birthdays are in May compared to June?
January has how many more birthdays than February?
How many more birthdays would we need in March so it had the same as April?
How many birthdays do July and November have all together?
What if I took two cakes away from December, how many birthdays would we have then?
How could this graph change or not change over time?
What are you looking at on the graph to help you figure that out?
What does this graph tell us about the class?
Step 11: Finish reading the end of the book Happy Birthday! by Gail Gibbons and discuss each month's color, flower, birthstone, etc.
Optional: Finally, display the birthday graph in the hallway along with the name graph.
---
Supporting All Learners
All students are able to participate in creating the birthday graph. I also encourage students to think of their own questions to ask about the graph to support my gifted learners. I use lots of repetition and song to support my ELL learners.
---
Lesson Extensions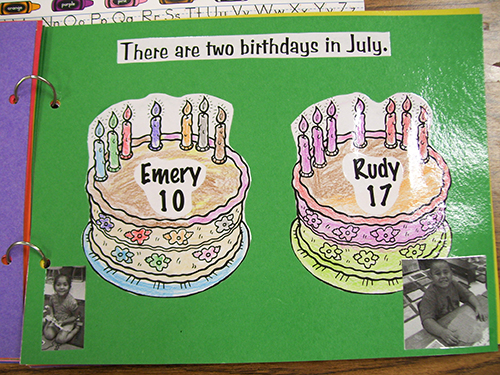 Be sure to continue to use the chant "Apples, peaches, pears, and plums. Tell me when your birthday comes!" to practice student birthdays. You can do this during community time or when there is a break in the action throughout the school day. The students love singing this chant, and asking just a few students their birth date at different times will help all your students learn their birthdays in a flash! If you recall, the student colored two cakes in the previous lesson. I use the second cake to create a class birthday book. Title the book Happy Birthday To Us! and glue the appropriate cakes on each month and use simple language to write the text, such as; "There are no birthdays in January." "There are two birthdays in February." This is a meaningful way for students to pattern read the months of the year and number words. Adding a little photo of each student next to the cake they colored gives the book a special touch.
Classroom Tips: When creating class books with your students, keep a template for each book on your computer so you can just type in the new or changed information, print, cut, glue, and laminate for a beautifully made book that will stand the test of time.
---
Home Connections
Send home the classmade birthday book with a different student each night so they can read it to their family.
---
Assignments
Along with the classmade birthday book, you could also choose to send home the Birthday Months Graphing Worksheet printable for students to complete with the help of their parents.
Post Instructional
---
Evaluation
This home connection gives students the opportunity to discuss classmates' birthdays with their family members and reinforce learning about the months of their birthdays.
---
Lesson Assessment
Take note of which students choose to think of their own questions about the graph and which students are still struggling to answer simple counting questions.
---