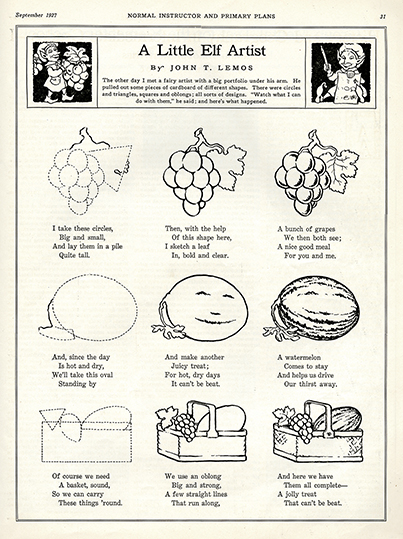 Master Class
The Little Elf Artist, a magazine staple in the 1920s, used the "big portfolio under his arm" to teach kids to draw. With its focus on geometric shapes and quirky rhymes, this art lesson adds up to a lot of fun!

For the Bookworm
This holiday reproducible from 1923 is perfect for making sweet vintage bookmarks to tuck between pages or give away as gifts. Have kids write their own notes or use one of these old-fashioned ones as inspiration.

Picture This Sentence
Matching words with pictures is a skill as important for kids today as it was in 1947. Have them practice handwriting, reading, and matching images to print—and for a challenge, suggest they add their own sentences!
Download and print all three templates here!
Love Scholastic Teacher's Print-Ready Resources?
Sign up for Scholastic Teachables on Scholastic.com for teacher-made lesson plans, activities, skills sheets, and other resources vetted by the education experts at the most trusted name in learning.

Click Here to Subscribe to Scholastic Teacher Magazine
Printables research: Pari Deshpande Cohen