By Genet Berhane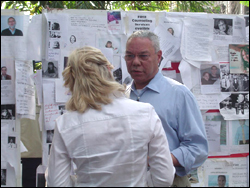 Secretary Powell being interviewed by Diane Sawyer in front of "The Wall of the Disappeared" at the City Hall Disaster Relief Center in Phuket, Thailand on January 4, 2005.
(Photo: State Department photo)
From his seat aboard a helicopter, U.S. Secretary of State Colin Powell peered down at the devastation spread throughout the Indonesian province of Aceh. The helicopter ride was part of a two-hour tour Powell took to view damage caused by a devastating tsunami. The giant tidal wave killed at least 150,000 people when it hit on December 26. Six countries in South Asia were affected.
"I have never seen anything like this," Powell said at a news conference the first week of January. "We've all seen pictures on our television sets . . . but only by seeing it in person from a helicopter flying low over the city can you get a real appreciation of what it must have been like when the tsunami came through and caused so much death and destruction."
A U.S. Delegation
Powell, accompanied by Florida Governor Jeb Bush, visited the areas most severely damaged by the tsunami as part of a U.S. delegation. Their job is to assess and determine how the U.S. can best help in relief efforts.
The four-day tour of the devastation includes a one-day summit in the port city of Jakarta, Indonesia. Governor Bush and Secretary Powell will meet with Asian leaders on Thursday to discuss reconstruction efforts.
"This has to be a long-term reconstruction and rehabilitation effort to rebuild homes, to rebuild families, and to rebuild lives," Powell said after a meeting with Indonesian Foreign Minister Hassan Wirajuda.

US Secretary of State Colin Powell (L) looks on during a press conference as Florida Governor Jeb Bush (R), brother of US President George W. Bush, answers a question at the provincial city hall in Phuket, southern Thailand on January 4, 2005.
(Photo: Pornchai Kittiwongsakul/AFP/Getty Images)
Experienced Help
Governor Bush has a great deal of experience in disaster relief issues. Florida was hit by four hurricanes in 2004. His state suffered more than $50 billion in damages.
"I know the President has deep concerns about what has happened (in South Asia)," said Governor Bush. "And the fact that I'm his brother, symbolically, may give some people a sense that the President really does care, as he does."
After the delegation returns to the U.S., Powell will brief the President and Congress about the region's condition. Soon afterward, a congressional delegation led by Representative Jim Leach of Iowa, a former U.S. Foreign Service officer, will visit Thailand and Sri Lanka.
International Aid
The U.S. has joined with India, Canada, Japan, and Australia to assist the United Nations (UN) in relief efforts. The U.S. has pledged $350 million in aid to the regions affected by the tsunami. According to UN reports, about 40 countries have pledged more than $2 billion in aid.
For information on how you can help,
click here
.