13, California
Scholastic Student Reporter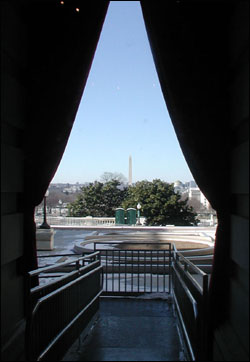 Scholastic Student Reporters went behind the scenes of President Bush's inauguration ceremony to see what it felt like to follow the President's footsteps.
(Photo: Suzanne McCabe)
Friday, January 21
—On the last official day of inauguration week, Student Reporter Noah McCullough and I visited the U.S. Capitol in Washington, D.C. There we met the two Senators from Texas (where Noah is from),
Kay Bailey Hutchison
and
John Cornyn
. The Senators hosted a morning coffee in the Hart Office Building for their fellow Texans. We got to talk to them and have our pictures taken with them.
After that we went to my Senator's office, Dianne Feinstein of California. An intern from Senator Feinstein's office took us on a tour of the Capitol.
It was beautiful. We saw the
old Supreme Court
room where the
Dred Scott
case was tried.
The paintings on the walls were breathtaking. They depict important moments in the history of the United States. Some walls were blank, left that way on purpose for future momentous events to be depicted. The two most
recent pictures
are of the landing of
Apollo 11
on the moon in 1969 and the tragic destruction of the space shuttle
Challenger
in 1986.
One of the best parts of the tour was getting to walk in the footsteps of the President. We visited the area were President Bush and other dignitaries walked through to the inaugural podium just the day before. The awning was still hanging from the archway where George W. Bush passed through to be sworn in as President. The day before, I was on the other side of the podium, watching from the Capitol lawn.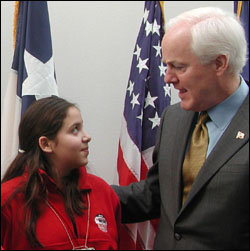 Gabriella Castaneda chats with Texas Senator John Cornyn at a breakfast the Hart Senate Office Building in Washington, D.C.
(Photo: Suzanne McCabe)
In the
Hall of Statues
, we learned about a trick played by President John Quincy Adams when he was a Senator. He would pretend to fall asleep on his desk. Then, he would "wake up" and give detailed comments on the topics being discussed. It was soon discovered that his desk was located in a perfect place of the room. He was able to hear conversations of members of the Senate located in the other side of the room. You can experience this yourself by standing on the spot where Adam's desk used to be. This happens, our guide told us, because of the elliptical shape of the ceiling in the room.
The most meaningful part of the tour for me was the
Rotunda
. I found several of the pictures hung there were from my history textbook. In my textbook, they are only inches wide. In reality, they are as big as the wall! Reading history in a book is one thing, but seeing it large as life is much better.