Teachers know that as the days get warmer and the end of the year draws near, it's a challenge to keep the learning going and kids' energy inside the classroom. The last few weeks of school are an intense time. Both you and your students will most likely be happy that the final testing period is over, and frequently strong emotions surface as you come to the end of your year together. This month's winners show us how to make the most of the last days of school and remind us, when its hard to hold your students attention, be creative with instructional approaches that emphasize fun!
We're sending a big round of applause to all our teacher contributors.There's lots more to see on our Winning Ideas discussion board. Don't forget to enter your ideas in our next Winning Ideas contest later this summer.
1. T-shirts — Personal & Wearable Memories
Susan Julio, Okaloosa Applied Technology Center, FL
For this memorable end-of-the-year activity, ask each student to bring in a plain 100% cotton tee shirt, a brown paper bag, and a foam stamp that represents their personality in some way (stamps are readily available at large discount stores and craft stores.) You provide the time, fabric paint, and fabric writing pens. Stamps come in such a wide variety that everyone should be able to find an appropriate stamp — I use an apple stamp for my own tee shirt. Have students fit the paper bags inside of the tee shirt (this protects the paint from leaking through the tee shirt). Place the shirts on newspapers along the floor or on a counter. Show students how to pour a bit of fabric paint into a paper plate, dip their foam stamp into the paint, and then gently place the stamp on the front of the t-shirt (I usually have students do their own shirts with their own personal stamp first as a way to practice). Tell students that through out the week, whenever there is spare time, they may "stamp" the shirts of other students using their own personal stamp. Later, after all the stamping is complete and the paint has dried, students may then use fabric markers to write their names under their stamp. Students love taking home a wearable "memory" of their classmates, and I have a shirt that I treasure as well!
2. PowerPoint Yearbook of Photographs
Rene Masden-Jett, Iroquois Middle School, KY
Every year I do something different; however, a couple of years ago I had an assignment that went over well. I allowed the student to create PowerPoint on the year they had, and then present it to the class. They knew at the beginning of the year, so they took pictures on field trips, events, etc. Throughout the year, we did PowerPoints.
They had to have at least 10 slides documenting how the year went for them. If they didn't have pictures, they could use animation or clip art. The 10 slides had to be like a yearbook: best moment, worst moment, most embarassing, etc. I did not allow them to "diss" any friends or teachers. It had to be about themselves and they couldn't be callous about anyone in the school. In addition, they had to be viewed by me first.
They loved presenting using the projector and having the class see the presentation. They had fun and learned a lot about technology. We did this the last week and a half of school.
3. Meet & Greet Next Year's Teacher & Classmates
Renee Parker, Selinsgrove Intermediate School, PA)
At our school, we end each year by gearing up for the next year! Students actually get the opportunity to move up to the next grade and meet their new teacher. Third graders get to meet their new fourth-grade teacher and classmates, fourth graders get to meet their new fifth grade teacher and classmates, etc. This activity really helps both teacher and student. Students feel more at ease about the transition they will experience at the end of August. Teachers, meanwhile, get to meet their new students and talk to them about what to expect next year. It's also a great time to give them some summer reading, flashcards to practice, or review work to keep their minds fresh and ready for a new school year. I also use this opportunity to have my students practice their letter-writing skills. In order to introduce new students to my classroom, I have my current students write each new third grader a letter. The letter talks about all the great things students get to learn and do in third grade. Next, each student writes a letter to his new teacher. The letter tells about himself and what he is looking forward to learning in fourth grade. Move Up Day is a special way to end the school year, and it's a valuable day for students and teachers alike!
4. Wacky Learning Competitions
Michelle Smith, Southwest Middle School, NH
I work at a middle school in Manchester, NH. We have approximately 300 seventh-grade students. Our last day of school will be June 26, which is one of the latest dates for any of the schools in our area. Foreseeing that the students will be burnt out and the classrooms will very hot, the seventh-grade team of teachers are planning activities for the last two weeks of school that will keep the students engaged and learning.
We have three seventh-grade pods. We have developed a list (and are still adding to it) of areas in which the students can compete against each other. We have included in our list the core academic areas, as well as art, music, board games, wacky sport games, and other activities such as Lego-building and acting. The goal is that each of our students participtates in an area that they are strong in and can succeed at. The first week will be spent in the competition phase, and the second week we will spend celebrating the success of the students and having more fun. My personal hope, as always, is for school to be fun... it doesn't have to be boring to learn!!!
5. Research Projects & Learning Stations
Kelly Brown, Cherryville Elementary School, NC
I use several strategies to keep my students engaged during the last weeks of school. We go on walking trips around our town so students can learn more about what their town has to offer, as well as begin research projects. For this post, I am going to discuss in detail about beginning research projects. My students begin research projects on insects, animals, and then ocean animals. They absolutely LOVE feeling big, and truthfully being in charge of what they do with the projects. I include activities from different subject areas as well as technology. The students work with a group of three other students for the first project — insects. I hold each student accountable for what they learned by using the self-assessment form that is attached after they have completed the different lessons and activities for each unit.
For example, when we learn about insects, I use a KWL chart to make sure I include my student's questions, misconceptions, and their interests. We discuss what they can use to find the answers to the questions they will answer: books, newspaper, Internet Web sites, etc. While in the library, they work with their group to pick out the books they think will help them, too. Some of the questions to which students research the answers include: Where does your insect live? What is the growth cycle? What does it eat? Is it a carnivore, omnivore, herbivore? List the enemies if it has any. Students then present their findings to the class.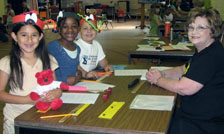 As a celebration wrap-up for the unit, my grade level then sets up several different learning stations in the gym. Students made bug hats for the students to wear for the celebration and they turned out PRECIOUS! Each of the learning stations focus on a different subject area: writing/observation skills, math measurement, tally marks, line plots, sorting, reading activity/ABC order, listening center, and a snack and craft center. Each group rotates to a different station every 10 minutes. There is a volunteer or teacher at each station to help the students with what they are to do. The students love going to the different stations and always have lots of fun! This is one of the ways I help keep my student's excited, and not concerned about when we get out of school before the end of the year!