Every teacher knows that building a strong relationship with a parent at the start of the year can make a difference in a student's academic performance. Take advantage of Parents' Night or Open School Night to reach out to moms, dads, and other adults in students' lives.

From tempting potential volunteers with treats to using lots of student photos to give parents a peek into their child's school day, here are inspiring ideas from fellow teachers.
1. Open House T-Shirts
Submitted by Janis Tysko, grade 2 teacher, Morrison Elementary School, Athens, OH
For Open House, students create shirts using a method that simulates tie-dye. Before school, I send postcards asking students to bring in a white or pastel T-shirt.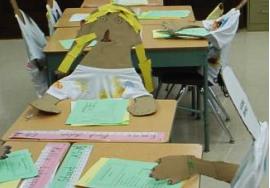 A student's alter ego waits for parents to arrive
To create the T-shirt design:
Use plastic cups of various sizes; put one layer of the shirt (front, sleeves, etc.)
Students use permanent markers to decorate the space within that cup top. (The markers must be permanent so the shirts will be washable later and look the same.)
They use eyedroppers to drop rubbing alcohol over their marker decorations. The alcohol will cause the permanent marker to bleed, creating a tie-dye effect.
The students can do two or three cups of decorations at a time. (We do this for a few days at the end of each school day.)
Meanwhile, collect large pieces of cardboard and recruit parents to trace each student from the waist up on the cardboard. Parents then cut out the bodies and the students decorate their heads and hands.
Just before Open House, the students dress the bodies with their shirts and we put them on each chair with hands on their desks with the handouts that I have for Open House. (The back of the shirt will go over the chair to hold the body in place.)
I have found that when the students are involved in preparing for Open House with this project they are excited to have their parents come to see their room. This creates community and we will then wear our T-shirts on special days through the year. The parents are enthralled with their "two students" in my room. This idea, and my continuous PowerPoint show, is always a big hit for Open House.
2. Guess How Many
Submitted by Jennifer Crane, grade 4 teacher, Washington Elementary, Union, NJ
What I try to do at open house is to involve the parents in a game that will include the children. Even though the children aren't allowed to attend, they get involved the following day. I put a jar of cookies at the door with post-its. The parents are supposed to guess how many cookies are in the jar. They are only supposed to write half of the number (if they believe there are 30, they write 15). The next day the children guess and put only half of what they think. I then add both guesses and whoever came closest as a team gets a prize. This is a good way to get the parents and children working as a team right from the get go. Along with this activity I place a poem on each child's desk that goes along with the cookies about working as teams to be successful. Attached is the poem (PDF) that I use.
3.

Parent Night: Important Thing
Submitted by Carol Gbur, grades 3 and 4, Hunterdon Christian Academy, Lambertville, NJ
A few days before parent night, I read the book, The Important Book, by Margaret Wise Brown, to my class. We talk about the circular format and poem structure. The children then write their own "important" poem about themselves. These will get hung up, name hidden, on a bulletin board. The children then also write an "important" poem about each parent including a picture. These will go on the child's desk. When parents come in on parent night, while waiting for drifters, the parents are invited to do three things:
See if they can find their child's "Important Poem about Me" on the bulletin board (they can peek under the paper if they were correct).
Find their student's desk and read the poems left for them by their child.
Find a blank paper on the desk (children decorate all papers), and are invited to write their own poem, following the format, if possible, to their child.
The children are delighted to come in the next morning to read what their parents think is the important thing about them. Papers are sent home for any absent parent with a teacher note encouraging them to read what their child wrote, and then write something back.
4. Back-to-School Rubric
Submitted by Annmarie Underwood, grade 5, Steinhauer Elementary School, Mapel Shade, NJ
Because I use a lot of rubrics throughout the year, I want my parents to be familiar with how they work. So on Back to School Night, I bake a batch of chocolate chip cookies. After I've explained how rubrics work, I give a cookie to each parent, along with a blank rubric and I give them the opportunity to "grade" the cookies. It makes it much easier for parents to see what a great way rubrics are for objective grading!
5. Smart Boards
Submitted by Christine Dixon, grade 5, Savannah Christian Preparatory, Savannah, GA
Parent night can be sometimes stressful. Our teaching team creates a PowerPoint presentation and we take turns sharing various bits of information re: curriculum, responsibility, homework, rules, consequences, field trips, parent volunteer info., etc.

This year we presented our information on a Smart Board to show how the board worked and to excite the parents about our new technology. The money raised from our yearly fundraiser contributes to the account that is used to buy these Smart Boards. So, we essentially "killed two birds with one stone," showing the new technology and promoting our fundraiser. It worked GREAT!