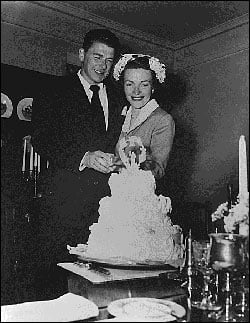 Newleyweds Ronald and Nancy Reagan cut their wedding cake on March 4, 1952.
(Photo: Ronald Reagan Library/NARA)
The nation's 40th President, Ronald Wilson Reagan, died Saturday, June 5, 2004 at the age of 93. The onetime liberal Democrat changed parties and lead government through a conservative revolution in the 1980s. He was considered to be the most popular President since Franklin Delano Roosevelt. Here are some of the highlights of his life.
February 6, 1911: Born in Tampico, Illinois.
1932: Graduates from Eureka College in Illinois with a degree in economics and sociology.
1935: Enlists as private in U.S. Army Reserve.
1937: Makes first film, Love Is on the Air; becomes second lieutenant in U.S. Cavalry Reserve.
1940: Marries actress Jane Wyman.
1941: Daughter Maureen Elizabeth is born.
1942: Called to active military service but wasn't allowed in combat because of poor eyesight; transfers to Army Air Corps film unit and makes hundreds of training films.
1945: Adopts son Michael Edward; signs million-dollar contract with Warner Bros.; discharged from Army.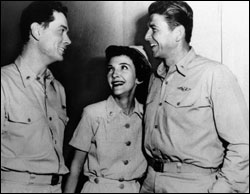 Ronald Reagan (right) and Nancy Davis act in the 1957 movie Hellcats of the Navy.
(Photo: AP Wide World)
1947: Becomes president of Screen Actors Guild.
1949: Divorces Jane Wyman.
1950: Makes TV debut in Nash Airflyte Theater.
1952: Marries actress Nancy Davis; daughter Patricia Ann (Patti) is born; campaigns for GOP presidential nominee Dwight D. Eisenhower (Reagan was still a Democrat at the time).
1954: Becomes host of TV's General Electric Theater and a spokesman for the company.
1957: Stars with Nancy in Hellcats of the Navy.
1958: Son Ronald Prescott is born.
1960: Campaigns as Democrat for GOP presidential bid of Richard Nixon, who lost
1962: Reagan registers as a Republican.
1964: He is made a national political figure when he makes his "A Time for Choosing" speech supporting GOP presidential candidate Barry Goldwater.
1964: Makes last movie. He acted in more than 50 movies, including King's Row and Knute Rockne. In Knute Rockne, Reagan played star halfback George Gipp. That role earned him his nickname "Gipper."
1965: Publishes autobiography, Where's the Rest of Me?
1966: Elected Republican Governor of California.
1968: Makes first bid for GOP presidential nomination but fails (Richard Nixon won the nomination).
1970: Re-elected Governor of California.
1976: Makes second bid for GOP presidential nomination and fails again (Gerald Ford won the nomination).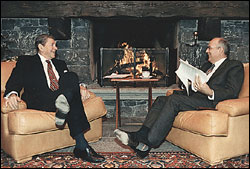 President Reagan and Reagan and General Secretary Mikhail Gorbachev at the first summit in Geneva on November 19, 1985.
(Photo: Ronald Reagan Library/NARA)
1980: Wins Republican nomination for President and in November, he is elected the 40th President of the United States.
March 1981: Survives an assassination attempt.
July 1981: Nominates Sandra Day O'Connor, the first woman to serve on the U.S. Supreme Court.
October 1983: Sent U.S. Marines to Lebanon as part of a peacekeeping force. U.S. Marine Corps barracks were bombed in Lebanon, 241 people were killed. In early 1984, Reagan withdrew the surviving marines.
November 1984: Re-elected President.
November 1985: Meets with Soviet President Mikhail Gorbachev for first time at the first arms summit in Geneva. Just two years later, the two leaders sign the first treaty ever to reduce the number of nuclear weapons.
January 1986: Challenger explodes. "The crew of the space shuttle Challenger honored us by the manner in which they lived their lives. We will never forget them, nor the last time we saw them, this morning, as they prepared for the journey and waved goodbye and 'slipped the surly bonds of earth'to 'touch the face of God,'" Reagan said after the explosion.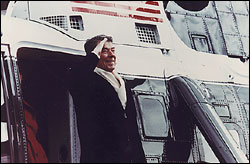 President Reagan's last day as President. He boards the helicopter at the U.S. Capitol on January 20, 1989.
(Photo: Ronald Reagan Library/NARA)
May 1987: Congressional hearings begin on Iran-Contra affair. The hearings revealed that presidential aides had illegally sold weapons to Iran, giving the money to Nicaraguan rebels. Iran was an enemy of the United States.
June 1987: Visits Berlin and urges Soviets to take down the wall that divides the west Berlin from Communist East Berlin. The wall came down in November 1989.
June 1988: Reagan and Gorbachev sign Intermediate-Range Nuclear Forces treaty in Moscow. The treaty banned intermediate-range nuclear weapons.
November 1988: Vice President, George H. W. Bush is elected President.
January 1989: Reagan ends two terms as President.
November 1994: Announces that he has Alzheimer's disease
October 11, 2001: Becomes the longest-lived President, having lived 33,120 days.
March 4, 2002: Celebrates his 50th wedding anniversary with wife Nancy Reagan.
June 5, 2004: Dies at age 93.