By Steven Ehrenberg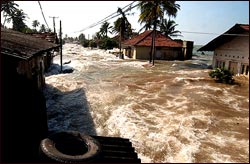 Tidal waves wash through streets in Maddampegama, Sri Lanka, on Sunday.
(Photo: AP Photo/Gemunu Amarasinghe)
December 28—The worst earthquake in 40 years shook South Asia on Sunday, triggering monstrous waves that swept entire villages into the sea. About 150,000 people in a dozen countries were killed in the disaster, and millions were left homeless.
The quake shook deep beneath the Indonesian island of Sumatra and registered 9.0 on the Richter scale, which measures the intensity of earthquakes. It was felt more than 3,000 miles away in East Africa, where heavy tides kept fishermen at home and resorts closed.
It was as if the sea had struck the land. Residents of Sri Lanka, a small island country off the coast of India, ran for the hills to find safety from the tsunami, or giant waves. Many took their radios, televisions, and other valuables with them. The disaster hit Sri Lanka hardest. Of its 20 million people, 1 million lost their homes, and 10,000 died.
"The water simply raised itself up and huge waves came ashore," wrote eyewitness Peter Thomas from Kochi, India. "It was moving very fast. The impact smashed the glass walls of a restaurant on the beach here and damaged hundreds of boats."
In some places, the tsunami struck with no warning. "The weather was fine with no clouds," wrote an eyewitness in Indonesia. "Suddenly the seawater just hit the city. In some parts the water was up to chest level."
Relief Efforts
A massive effort to help the affected countries is already under way. Leaders from around the world have pledged their support, and teams of aid workers, doctors, and volunteers are rushing to the region.
"The United States stands ready to offer all appropriate assistance to those nations most affected, including Sri Lanka, the Maldives, Thailand, and Indonesia, as well as the other countries impacted," said White House spokesman Trent Duffy.
Organizations from the Red Cross to the International Monetary Fund have launched fund-raising drives to ease the costs of rebuilding.