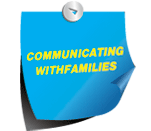 Don't believe everything you hear in the teacher's lounge. Most parent-teacher conferences are cordial, productive, and informative. If meetings do happen to go awry, what matters is getting back on track. Use these ten tips to steer clear of common pitfalls.
Do some research first. Send home a Looking Forward to Our Conference Letter a couple of weeks before parent conferences, asking parents what their main concerns and questions are. Staple their responses directly to your conference notes and use them to guide your conference preparation.


Use your established assessment system. Review any checklists or notes you've been using for ongoing assessment. Decide whether to have the checklist with you at the conference or use it to create a conference note form. The checklist may be unnecessarily specific for the conference, or you may not want parents to see your raw notes. If either of these is the case, create a Parent Conference Form.


Organize your notes into simple categories on a Parent Conference Form. Include only the most vital and relevant standards in each curriculum area and the simplest and most useful of ratings categories — for example, Areas of Strength, Areas of Concern, and Goals. Using a grid or following a simple conference note form allows you to notice quickly whether your presentation will give the overall picture you want to convey. For example, will you sound more negative than you intend to? Do you need to find more to add to the strengths category?


Ask your students how they think they're doing. Although as the teacher you have a broad and sophisticated perspective on student progress, asking students in upper elementary and middle school to reflect on their own work can be very useful. They are very likely to provide additional insights into areas of growth or challenge, or draw your attention to something you've missed.


Be prepared with samples of student work. Parents should leave a conference with a clear idea and concrete examples of what's going well and what areas need work. While it's not a good idea to overwhelm parents with a whole semester's worth of written work, well-chosen samples in a portfolio will support and clarify your salient notes.


Always begin with what the child does well. Without exception, human beings are more receptive to constructive criticism — even bad news — when our hard work, honest attempts, and natural talents are noticed and remarked upon. Parents identify with their children and, in many cases, experienced similar academic or social circumstances themselves when they were young. It's vitally important to them that you see their children as individuals and that you like them. In some cases, you may have to search high and low for a success story. It's worth it if you want to be heard when you recommend an evaluation, a change in reading group, or a tutor.


Only say what you know. Don't feel you have to report on every area of the curriculum. Get an idea of what each family's priorities are (by sending home a notice before conference time), and discuss what seems most relevant. It's perfectly acceptable to say, "I need to do a little research on that, and I'll get back to you," if a parent asks you something you are not prepared to answer. This response, if stated confidently and unapologetically, is perfectly professional, and certainly is preferable to making something up on the spot. If a parent is disrespectful or unpleasant, don't feel you have to defend yourself. Maintain your composure by acknowledging the comment without engaging the parent unnecessarily. "Hmm. You find the homework is too easy. I'll make a note of that. Can you give me a brief example of what you mean?" Write the feedback on your notes, and then immediately regain control of the conference by returning to your agenda and your prepared materials.


Avoid jargon. Using overwrought professional vocabulary or this month's educational buzzword actually makes your dialogue with parents less substantial. Instead of using catchphrases or technical terms, describe what you mean or demonstrate it with examples or concrete materials. For instance, instead of using the term "miscue" when discussing a student's reading, try "When reading aloud, Irene frequently substitutes one work for another similar-looking word. For example, on this page, she read 'understandable' instead of 'unmanageable.'" Make your written reports concise and jargon-free as well.


Show that you know the child by having an anecdote ready to share. Parents deeply appreciate your knowledge of their child, above and beyond the child's academic abilities. A brief story about a comment made in a class meeting, a journal entry, or a social interaction can personalize a conference and make it more satisfying for parents.


Anticipate frequently asked questions. For new teachers, as well as teachers who are new to a school or to a grade level, it's helpful to consult more experienced teachers to find out what parents typically ask about. Frequently, parents at particular grade levels may be preoccupied with testing, progress in reading, the transition to middle school, and other matters. While you don't want these concerns to overwhelm your agenda, you should be prepared to respond to them.
This article was adapted from Your Best Year Yet! A Guide to Purposeful Planning & Effective Classroom Organization by Shoshana Wolfe (© 2006, Scholastic).