A great craft for the start of school, children create personalized T-shirts made of paper, featuring their names and a drawing. Hang them all in your classroom on a clothesline for a fun display.
What You Need:
Pencils
White paper, 8 ½- by 11-inch size
Scissors
Crayons
String
Clothespins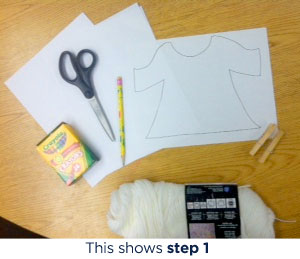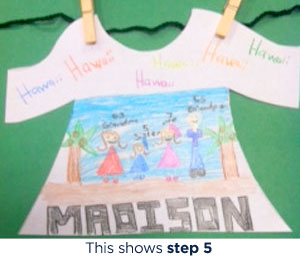 What You Do:
Draw an illustration of a short-sleeved T-shirt, then cut it out. This will be your T-shirt template.
Have each student trace your template onto a piece of white paper, then cut it out to create their own T-shirts.
Ask children to write their names in big block letters at the bottom of the shirt.
Have students draw an illustration above their name using crayons. It could be of their family, a favorite animal, a favorite sport – anything meaningful to them.
Clip your students' T-shirts onto a string with clothespins.
Hang up the string with T-shirts on a wall to give it a clothesline look.
Optional: Add bows to the end of the clothesline.
Extension Ideas:
Find tiny clothespins at a craft store and use them to hang T-shirts.
Take a headshot of each student and glue it behind his or her T-shirt.
Use the T-shirts on a bulletin board to identify students' work.
Buy real T-shirts at a discount store and allow students to decorate them with acrylic paint and glitter. This is a great way to keep track of kids on a field trip.