Scholastic Student Reporters Gabriella Castaneda, 12, and Noah McCullough, 8, will be in Washington, D.C., during inauguration week to cover events for Scholastic News Online.
Gabriella covered Election 2004 news from her hometown of Sacramento, California. Noah reported on the election from Houston, Texas.
During inaugural week they will be attending a youth concert, a presidential event on The Ellipse, the swearing-in ceremony, the presidential parade, and at least one of the balls.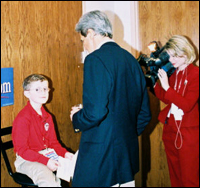 Noah McCullough interviews Senator John Kerry during a Kerry campaign stop in Houston, Texas, during Election 2004. While Noah was working on his interview, a local TV reporter was working on getting a story about Noah.
(Photo courtesy Noah McCullough)
Check back often to find out the latest on one of the Capital City's most historic events.