America's Next Top Poets
Meet the National Student Poets (pictured, from left, with the First Lady): Michaela Coplen, Sojourner Ahebee, Nathan Cummings, Louis Lafair, and Aline Dolinh. Appointed by Michelle Obama, these Scholastic Art & Writing Awards winners will serve as literacy ambassadors from April through September. Throughout their tenure, the talented teens will give readings and host workshops across the country. The ambassadors are tasked with a lofty goal: teaching kids across America to find joy in poetry. For Louis, it starts with picking up a pen. "Just write," says the 18-year-old. "It may not make a great poem, but you're expressing yourself and that's what counts." Sojourner, 17, adds, "I write to remember that I have a voice in this world. I have a story, and that story is important."
Image: Photo by Lawrence Jackson
Schools Go Green
In January, West Virginia opened its first LEED-certified school. Weeks before, Ohio celebrated its 100th such school. And in 2015, New York City will open its first net-zero-energy school. But being "green" is about more than construction. That's why Gloria Marshall Elementary emphasizes STEM. Featured in the National Building Museum's "Green Schools" exhibition, the Spring, Texas, school boasts an aquatic pond and a slide to teach gravity and velocity (below). Learn more at greenschools.net.
Image: Photo by Luis Ayala
Do This: Celebrate Children's Book Week!
During the week of May 12–18, we get to celebrate a few of our favorite things—you guessed it—children's books!
This year, much-loved authors and illustrators are stepping out for events in more than 60 cities. Kick off your celebration by downloading the official poster (at left) designed by Robin Preiss Glasser, illustrator of the Fancy Nancy series, at bookweekonline.com. Plus, kids have until May 12 to cast their votes for the Children's & Teen Choice Book Awards.
Image: Artwork by Robin Preiss Glasser/ Poster Design by Sean Bogg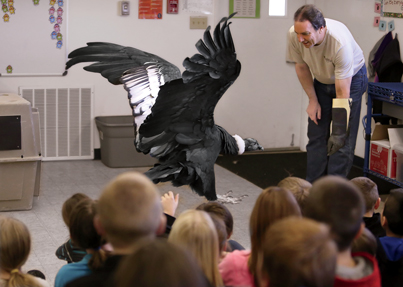 Professor Condor
This winter, Oregon's Veneta Elementary School welcomed a special guest: Queen Victoria, an Andean condor. Queen Victoria's visit capped off a unit on birds for the lucky fourth-grade class.
Image: AP Photo/The Register-Guard/Brian Davies
Spring by Numbers
62% of voters say improving local schools benefits the United States.
78% trust teachers to decide how to improve schools.
26% name "building character" as a long-term value of education.
Source: "The Education Roadtrip," 50CAN, 2013