This classification graphic organizer will help students become active learners by encouraging them to ask questions, apply critical thinking skills, and develop a strong set of learning strategies.
Using the Sort and Classify graphic organizer students will:
Select attributes for sorting
Observe differences and similarities among objects or events
Draw conclusions based on categorizations
Purpose
Learning to observe differences in physical properties, and to classify objects or events according to attributes and properties, is the basis for scientific investigation. This organizer helps students make decisions regarding classification and to visualize the data that they've collected and sorted.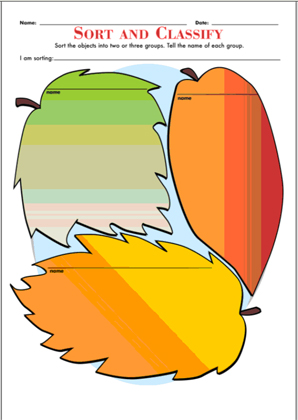 Sort and Classify
Download The File
50 Graphic Organizers for the Interactive Whiteboard: Sort and Classify
NOTE: if you don't already have Notebook Interactive Viewer, you can access a free version of the SMART Notebook Express software with SMART Notebook Express .

Tip
To customize and save the PDF files on CD, you will need to download Adobe Reader , version 7.0 or higher. This download is available free of charge for Mac and PC systems.
How to Use the Organizer
Whenever possible, provide children with actual objects to investigate. Ask them to observe the objects and come up with three sorting rules. Have them write the sorting rules on the lines within the leaves. (You can provide the sorting rules if you want students to pay close attention to specific attributes.) As students determine how they want to classify objects, have them draw a picture or write the name in the proper leaf. Suggest students work in small groups to discuss placement decisions, which will lead to greater understanding of classification. This organizer can also be used tor record the results of experiments. For instance, after tasting different foods, children can record their names under the sorting rules of salty, sweet, or sour.
More Activities From 50 Graphic Organizers for the Interactive Whiteboard
Character Chart
Graph It!


About The Book
50 Graphic Organizers for the Interactive Whiteboard (Grades 2–5), by Jennifer Jacobson and Dottie Raymer, offers whiteboard-read graphic organizers for language arts, social studies, science, math, and study skills to make learning engaging and interactive. . Includes a CD, which contains both PDF (Adobe Acrobat®) and Notebook (SMART Board®) versions of the pgraphic organizers in full color. These interactive files can be filled in either by hand or by typing on a keyboard and are perfect for modeling. A surefire way to engage all students and enhance their learning!

About Scholastic Professional
Scholastic Professional offers a range of books, DVDs, Study Guides, web downloads, and other resources and services that can support you as you make the dozens of daily instructional decisions that may forever shape the lives of your students. These resources bring together essential research and effective practice while always recognizing the challenges and pressures you face. Our mission to serve you is shaped by equal measures of passion and compassion. To learn more, visit us at Scholastic Professional .