These great snowmen are easy for younger students to make, yet still allow them to customize. You can pair this craft Snowmen at Night by Caralyn Buehner or another picture book about snowmen.
What You Need:
White tube socks, one per student
Fiberfill, cotton, newspaper, or foam beads to fill the tube socks
White yarn
Scissors
Colorful socks, one per student
Markers
Craft glue or hot glue with gun
Assorted buttons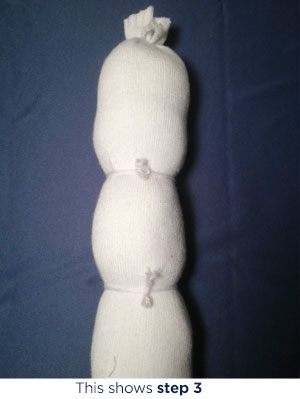 What You Do:
Have your students fill the white tube sock with fiberfill, cotton, newspaper, or foam beads, leaving room to tie the top of the sock closed.
Have the students cut three 6-inch pieces of yarn. They should use one piece to tie the sock closed.
Next, the students tie the remaining two pieces of yarn around the stuffed sock to divide it into thirds, as shown.
Have the students cut the toe from the colorful sock and glue it to the top of the tube sock to make the snowman's hat.
Students then cut a loop of fabric from the foot section of the colorful sock. They should cut the loop open so it's one long strip of fabric, as shown.
The students can tie the strip of fabric around the snowman's neck, covering up the white yarn and creating a scarf.
Have your students use markers to draw faces on their snowmen.
The students can further decorate their snowmen by gluing buttons down the snowmen's middle section.