Your students will get a kick out of this fun penguin craft, and you'll love an inexpensive and easy-to-prep activity to welcome your students back into the classroom after winter break.
What You Need:
Shoeboxes, any size, one per student
Black paint
Paint in an assortment of colors
Paintbrushes
Scissors
White, orange, and black construction paper
Glue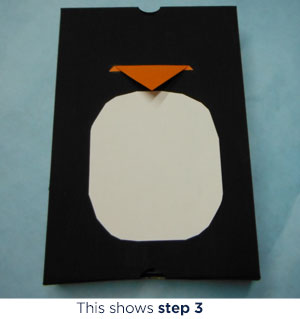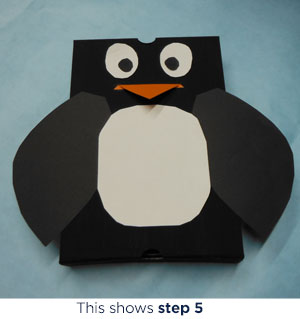 What You Do:
Have your students each paint the lid of a shoebox black. They can paint the rest of the box black or another color of their choosing. Set the boxes aside to dry.
To create the penguin's chest, ask the students to cut an oval from the white construction paper, then glue it to the lower half of the box lid.
Now the students can cut a triangle from the orange construction paper and glue it above the white chest to make a beak. Optional: To make the beak stick out from the box lid, the students can fold down a flap (about 1/2-inch wide) from the orange triangle's base and glue just the flap to the box lid.
To make the eyes, have students cut two circles from the white construction paper and two smaller circles from the black construction paper. They should glue the white circles above the beak, then glue the black circles inside the white ones to complete the eyes.
Ask the students to fold a piece of black construction paper horizontally, then draw a large single wing shape on the paper. Then they can cut out the wing shape with the paper folded to get two wings, then cut this in half and glue one half to each side of the box lid.
Have your students fold a piece of orange construction paper into halves. They can trace their hands on the paper with the base of their palms at the fold. Have them cut out the hand shapes and glue these handprint "feet" to the bottom edge of the box lids.
Extension Activity
Read If You Were a Penguin by Florence Minor. Discuss what you could do if you were a penguin. Have the students respond verbally and in writing.
Use this sentence frame for writing assignments: "If I were a penguin, my favorite thing to do would be ________________."