The playground is empty and quiet. The school is a ghost town. The classrooms are clean and the furniture is piled up on the side of the room. It's overwhelming to see my normally organized classroom in disarray, but I love redesigning and decorating my room in the days before school starts. Join me in the next two posts as I tackle setting up and organizing my classroom.
Taking Stock and Planning
I always begin by
reflecting on what worked
- and what didn't - from last year's class setup. For instance, last year, students crowded each other in the classroom library. I had front facing bookshelves in a small corner area. This summer, thanks to the purging of a neighboring teacher, I was able to make use of her wonderful shelves to stretch my library along the back wall of my classroom.
Next, I
make adjustments for this year's changes
and begin playing on
Scholastic's classroom design tool
. This coming year, I have to plan for five more students, so I'm going to get rid of some furniture and rearrange some things to fit in the extra desks. In addition to Scholastic's tool, I also found their article "
Eight Secrets to Classroom Design
" helpful.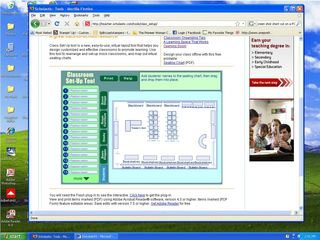 Scholastic's Classroom Design Tool
Bulletin Boards
I make sure that I have enough space on each of my subject area bulletin boards to accommodate thirty students. Instead of using fade-less paper, butcher paper, or cloth, I buy the largest size rectangular
plastic tablecloths
from a party store for about a dollar. They are bright year to year without fading, and it saves some trees. Many stores offer heavier duty printed tablecloths for about five dollars. The tablecloths are long enough that they reach from the floor to the ceiling with a little to spare. Twin-sized flat sheets also work well. Instead of seasonal borders, I make use of general patterns and keep them up all year.
Furniture Moving
Then I begin to move the actual furniture from the pile, starting with the pieces that need to be in a specific spot. For example, my projector table, which is also my teacher desk, needs to be a certain distance in front of my ActivBoard.
Then I move the student desks to an area that is near the whiteboard, but out of the way. For the first week of school, I let
students choose their seats
in one of the table groups. This allows me to see which students already know each other and who I will need to keep an eye on this year. I usually sit eight or ten kids in a table group with a good view of the whiteboard.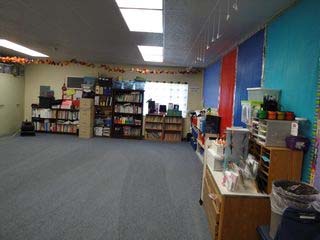 Here is a picture of my classroom with the plastic tablecloths covering the bulletin boards. The class looks huge, but it's a standard sized portable.

Inspired by the
Littlest Learner blog
and
Beth Newingham's library
, I plan to do some major clutter reduction and to completely reorganize my classroom library. It is time for an overhaul! I fell in love with the Littlest Learner's sense of humor and obsessive-compulsive, frugal organizational tips.
Once I move my furniture into place, I'll tackle organizing, labeling, and shelving all the books in my classroom library. Join me next week as I
redesign and rearrange
my classroom!