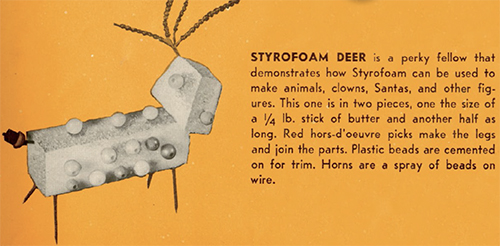 We love this 1964 "perky fellow" made from Styrofoam. In our updated version, celebrate the cold weather by creating your own wintry classroom menagerie!

Bonus: This craft is a great way to use up your leftover beads, scraps of fabric, buttons, and other stray crafting items!

Things You'll Need: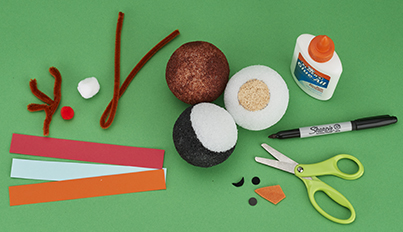 Styrofoam balls
Foam paintbrushes
Craft paint (black, brown, ivory, and any other colors you choose)
Permanent markers
Glue
Assorted craft supplies (e.g., pompoms, felt, pipe cleaners, cotton balls)
Construction paper
Scissors
What to Do:
1 | Paint your Styrofoam ball using craft paint and a foam brush. If students want to make the creatures pictured above, follow these directions:
Reindeer: Paint the entire ball brown.

Penguins: Leave a heart-shape area white and painted the rest of the ball black.

Polar bear: Paint a small ivory circle for the snout.
2 | Draw animal faces in permanent marker once the balls have dried. Kids can decorate their creatures by gluing on various craft supplies.
3 | Cut a 1-inch strip of construction paper and glue the ends together to make a cylinder. Place the completed animal heads on the cylinders and enjoy your winter creatures!
Click Here to Subscribe to Scholastic Teacher Magazine
Photos: Adam Chinitz; Crafter: Morgan Levine; Craft Research: Pari Deshpande Cohen