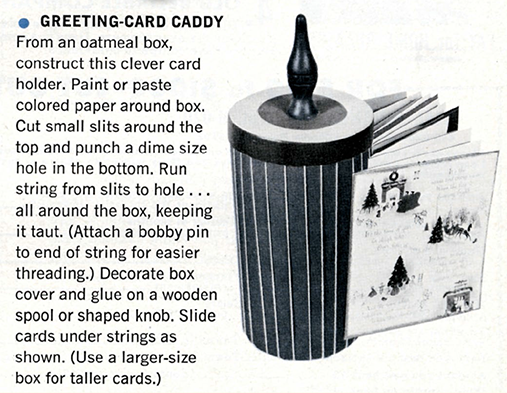 What better way to display student work than a colorful (and portable) caddy? We updated this 1967 greeting card holder to display book reports. Students will love showing off reviews of their faves and flops!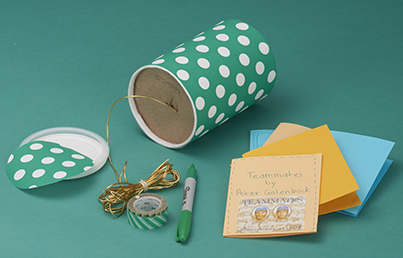 Things You'll Need:
Wrapping paper
Oatmeal container
Scissors
Double-sided tape
Decorative or washi tape
Elastic cord
What to Do:
1 | Cover the main body of an oatmeal container with wrapping paper. Cut out a circle of the same paper to cover the top of the container. Secure the paper with double-sided tape.
2 | Set aside the container tops. You'll add these on later!
3 | Cut 8-10 slits along the rim of your oatmeal container. All cuts should be less than an inch long.
4 | Cut out a hole in the circular bottom of your container. Make sure the hole is in the center of the circle. Students may need assistance to cut through the cardboard!
5 | Tape one end of an elastic cord to the inside of the container. Each student's cord should be approximately 2 feet long.
6 | Wrap your cord through one slit, then loop it outside the container and through the bottom hole. Repeat this step with the same piece of elastic cord until you've made loops through every slit.
7 | Secure the end of your cord by taping it to the inside of the container.
8 | Place the top on the oatmeal container and use washi tape to cover the seam. The tape will also cover the tops of each slit, securing your elastic loops!
8 | Attach a folded book review card by threading the front underneath an elastic band. The band will hold the card secure at its fold, and students will be able to view their work from all sides!
Click Here to Subscribe to Scholastic Teacher Magazine
Photos: Adam Chinitz; Crafter: Morgan Levine; Craft Research: Pari Deshpande Cohen