By Lisa Pimentel, age 14, New York
Scholastic Student Reporter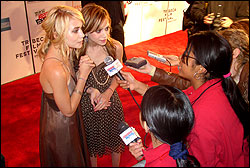 Lisa Pimentel (right) and Janus Chan interview Mary-Kate and Ashley Olsen.
(Photo: Steven Ehrenberg)
Before a big movie premieres at the Tribeca Film Festival, actors and directors and producers stroll down a red carpet into the theater. Journalists lean over the railing, holding out their microphones for interviews. The Scholastic Kids Press Corps had a prime spot along the carpet and interviewed many celebrities.
Mary-Kate and Ashley Olsen stopped by for the premiere of their movie, New York Minute. They seemed close, often finishing each others' sentences. Ashley plays Jane, an overachiever, and Mary-Kate plays Roxie, a "rocker chick."
"We love New York," Ashley told us. "We've loved the city for a really long time, so we're excited to be here."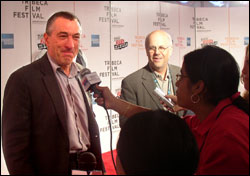 Robert DeNiro can't resist talking to the Scholastic Kids Press Corps.
(Photo: Steven Ehrenberg)
I asked them what they were like in fifth grade. "I was probably really awkward," admitted Ashley. "We were in school and working. I was probably the same person I am today—same morals, same values."
I talked with Micheal Imperioli, an actor on the TV drama The Sopranos. I was thinking, "Wow, he plays a mean character on The Sopranos, but he's so nice to us." He was there with his family.
New York City Mayor Michael Bloomberg came to the premiere of Brotherhood, a movie about firefighters on September 11. He answered a few questions for us, and he told us what he thinks of the rebuilding of downtown Manhattan.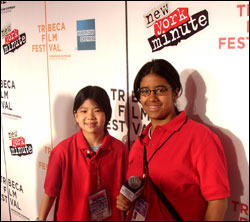 Janus (left) and Lisa (right) pose on the red carpet.
(Photo: Steven Ehrenberg)
"We have to make sure that we build for the future, but not forget our past," he said. "We want to remember those we lost, but in their memory want to leave their children a better world."
The Scholastic Kids Press Corps also interviewed actors Will Smith, Whoopi Goldberg, Robin Williams and his daughter Zelda, Glenn Close, and Tribeca Film Festival founders Jane Rosenthal and Craig Hatkoff.
Vin Diesel was at the Brotherhood premiere and he talked with us about living in New York City. He looked at me—and winked twice. I smiled back. We even spoke with Robert DeNiro, who also cofounded the film festival and rarely speaks with reporters. I asked him what he hopes people came away with from the festival.
"That they want to come back again next year," he said.