My husband and I often find ourselves reading the same book (or shortly following each other). It is quite amusing to hear us debate the plot, meaning, or symbolism behind it all.
I plea, "But what does that mean? Is there really a tiger on the boat? I'm a little confused."
My husband knows more, but he shares what he wants with me. And so goes a conversation about the book. So often his schema creates a widely different understanding than mine. And I like that. It makes me a stronger reader. So my goal is, how can I create this real-life reading approach for my students?
Dismissing The Myth: Placing High Readers with Struggling Readers
I attended a conference where Kathy Collins presented. Her topic of discussion was creating reading partnerships. First on her agenda was dismissing the concept that strong readers should be placed with struggling readers. Her reasoning was that it only reinforces the dynamics. She used an analogy I will never forgot in my life to make this clear for everyone. She shared how she was new to the running scene and how her good friend was a fast, experienced runner. Although it would be tempting to start running with her friend, she was pretty sure that her motivation would dissipate rather quickly with her. She wanted someone who was of similar abilities who could challenge her (and vice versa). At the time, I had lost my running partner and recruited a runner new to the scene. I had a running coach and was set for an upcoming marathon. She was new and did not. It didn't last very long. I have to agree that reading works the same way.
How to Create and Introduce Long(er) Reading Partners
I wait until school is well under way before I carefully decide whom each student will be paired up with. Mixing in a little personality, assessment information (DRA, running record, STAR), and reading interest, I strategically place Post-It notes in rows on the meeting area carpet. Students are asked to find their name and sit at that spot. When everyone is seated, I share the running story with my group and make sure to add details about the runner partner that didn't work out. I then tell them that reading is very similar in this way and tell them that I have carefully selected a reading partner for them, thinking of all the important elements that will make each reader stronger. I also throw in another analogy (for good measures) and say that these partnerships are like a marriage. You have to work at it sometimes, and you have to look out for your partner. Partners are then introduced and a short meet and greet occurs, as if they have never meet before.
Modeling a Meeting: I Might Need Commission Now
Have I mentioned The Daily Five enough for you all? This fabulous little book (read in one sitting) was NOT my favorite when I first read it. I almost dismissed it in its entirety because I was a "4th grade teacher" and thought the longer literacy blocks prescribed were out of the picture for me, and my class. I was wrong. With some revisiting of this text and some creative thinking, I have adopted more and more from these fabulous authors into my classroom repertoire (including a multi-block approach). One of the easiest ideas adopted was the EEKK method.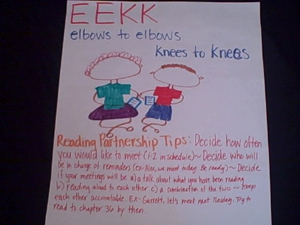 EEKK: Elbows to Elbows, Knees to Knees
I think I just like saying it. "Readers, find your reading partner and talk about it." Then I walk around and say, "Eekk, eekk." Oh, the joys of teaching! It also has this amazing magic to it on noise control. Try it out and you will see what I mean!
And Action!: Meeting in Progress
Using two confident students, build in a mini-lesson for demonstrating a strong reading partnership meeting. You may want to create and utilize an anchor chart like the one posted above. Have your two students use the same book to model what a typical conference might entail. You will want to start this scene with one student reminding the other that it is time to meet and lead it all the way to how they might end the meeting. Here are some of the tips/suggestions I model and discuss with the class:
Determine when you will be meeting together. In our class, we have a schedule on the third literacy block in the afternoon. It builds in two opportunities for each group, allowing a small mix of talking each day.
Determine where you will meet together. Our class originally debated that four talking partners was too much noise, but we were happy to come up with a compromise. We agreed that meeting just outside our door would help, as well as meeting in the corners of our room.
Decide the layout of the meeting. Will it be more talk based on plot or will you mainly be reading together? Both are supported and some have a mixture of the two.
Make it real. We don't have set cue cards to use for conversation, and we don't have reading partnership sheets to keep up with. I just want students to have the opportunity to talk to another student about what they are reading in a relaxing, non-threatening, real-life way.
On the other hand, consider using your reader's notebook to document your meetings together.
Set goals! Starting off, we are always reading the same book as our partner (if we decide to meet). Because of this, we model how to set goals for future meetings. "Try to reach chapter 36 by the next meeting and be ready to talk about the possible ending," might be a typical goal that ends the meeting together.
The Fine Print to Making Reading Partnerships Last
Observe and Discuss: This is key. I have a few students who have really embraced the meeting opportunity. I listen in when I can and follow it up with questions during our conference time. When, for example, one student shared TOO much plot with their reading partner who was behind them by a few chapters (she told her the dog was going to be thrown out the car window!), I used this as a quick follow-up during a whole group reading lesson.
"Readers, Mekenna and Brooke did a wonderful thing today. They meet together because they are reading A Dog's Life. I am excited to see more and more readers doing this. But there was one mistake that they both agreed I can share with you. They are letting me share this with you because they, and I, don't want this to happen to you..."
Be Ready For Change: I am anticipating this round of reading partnerships to last anywhere from 6-8 weeks before I seriously consider any changes. For a few students, that time may be shorter. For others, changes may not come this year at all. It just depends on all those ingredients that make each student motivated and successful.
Book Selection: With time, we will begin to share our individual books with each other for reading partnership meetings. For now, it may be a quick share time activity. "Readers, sitting EEKK style with your partner, share what you are reading with them. They may want to read it next."
It's Not Required: At this point, I have not made any of the meetings a requirement. I have nudged a few to meet with their partner, and it is all that has been needed so far.
My hope is that students can push and challenge each other in ways I can't. If the experience is anything like mine, I am sure it will. Happy reading to you all and don't forget the importance of bringing words alive in your classroom.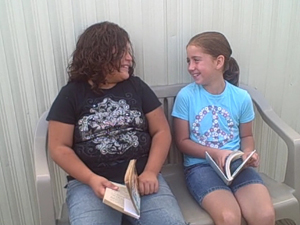 These students are discussing a book together outside our door (within view). They started the book at the same time and are keeping each other accountable for a finish date.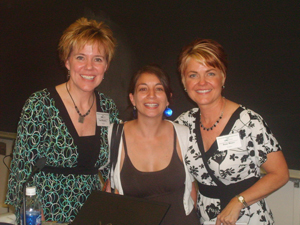 Here are the authors of The Daily Five. Aren't they cute?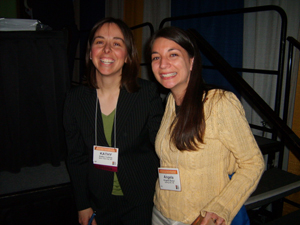 Here is a photo with the wonderful Kathy Collins. You can find her book, Growing Readers and Reading for Real, here.
Q&A With Angela
Q 1: Interesting... I start partnerships with partners reading different books. We focus on all the different ways we can share our thinking (make anchor charts together, practice during interactive read aloud, model meetings in a fishbowl manner, etc.). The kids write a brief post-it to share with their partners about every other day, After sharing, these are then stored in our class version of a reading notebook with the book title an date (I add tabs to a composition book... Sticky Notes, Read Aloud, Responses, Group Work). Then I review the stickies to see what kinds of thinking partners are sharing, I also use these notes to identify strengths and weaknesses to make strategy groups. I do have one partnership reading the same book. They will be my models for the class in the future.
I agree in the power of long-term partnerships... it's just getting the level of discussion where it needs to be. Third graders are such transitional learners... ready to move beyond just "I read, you read" partner meetings but not quite practiced enough to be let loose.
I also just read your blog about guided reading, I struggle with chapter book guided reading too... but don't like the leveled readers that come with our basal. I really need to focus on more non-fiction. We get Time for Kids and often don't have enough time to use it as a class. I also have National Geographic for Kids (and many other magazines and a leveled book room to raid). Food for thought... Darn! I just started a chapter book group...
Thanks for keeping me on my toes! Your blog is wonderful, your classroom is a gem and your students are very lucky. —Becky T.
A. Becky, I think reading different books can work as well, but it just keeps coming back to my adult life. Would I want to sit down and discuss a book with my husband and he discuss another book he is reading? That just depends. I am open to different books with my students, but I think it is easier to be reading the same book in the beginning. Naturally, you have more to connect with and have a conversation on. And I agree that you are in a tougher situation being in third. We really can keep in casual in 4th grade. You just say it, model it, and they do it. It really is nice. Keep on doing what you're doing. —Angela