Reaching Students with Different Reading Abilities
Students don't learn at the same pace, which can be challenging for any teacher. Here are articles to help you work with students at different levels of reading ability, plus fun activities to help motivate your readers!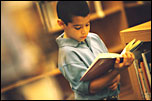 Articles for You
Empowering the Reader in Every Child: The case for flexible grouping when teaching reading. Flexible grouping can be an empowering experience for students, allowing them to work in differently mixed groups depending on the goal of the learning task at hand.
Source: Instructor Magazine
Reading Clinic: A Strategy for Every Reader
How to learn what each student knows about effective reading and help them build on those strategies. By Laura Robb.
Source: Instructor Magazine
Preventing Reading Failure
Learn how you can prevent students' reading failure by providing the most effective reading instruction.
Source: Instructor Magazine
Activities for Your Class
Favorite Character Trading Cards
(K-3)
Copy this reproducible for students to create trading cards based on their favorite book characters, they use them to play a guessing game! (PDF file.)
Source:
Quick & Creative Reading Response Activities
, Scholastic Professional Books.
Prediction Cards (Grades 3-5)
Combine the fun of guessing and the joy of making art with these prediction cards that students make and share.
Source: LanguageARTS, a Scholastic Professional Book
Write a Book Review with Rodman Philbrick (Grades 3-8)
The author of Freak the Mighty, guides students through the process of analyzing and summarizing books in this online workshop. Students can work at their own pace, and will receive a certificate of completion when they're done!
Source: Scholastic.com Writing with Writers
Books that Hook Readers
These book lists include titles that are sure to motivate and inspire even the most reluctant readers.