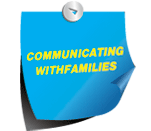 One of the biggest challenges in the first weeks of school can be reaching out to parents with limited English language skills and helping them to feel welcome in your classroom and your school. An easy way to get started is by making yourself as visible as possible during the first weeks and months of school. Try to touch base with parents when they drop off or pick up their children. A warm smile and a friendly greeting, perhaps in the family's native language, go a long way in making immigrant parents feel comfortable. Other ways to reach out include:
Enlisting children to translate. Ask bilingual children to help translate during any special program with performances that bring parents to the school. Have students make invitations for their parents that they can then translate aloud at home. Or perhaps the students can also write invitations in their first language.


Sending home correspondence in different colors. As simple as this sounds, it can save time and confusion. If each piece of correspondence is in a different color, when parents call you about a flyer or form they must sign and return, they can cite "the yellow paper" or "the pink paper," and make it easier for you to identify what they are referencing.


Recruiting bilingual staff as parent liaisons. Bilingual members of your school community can be invaluable in making personal contacts with parents by phone. Likewise, if parents know when a bilingual parent liaison is at school, they can call with questions during those hours.


Explaining the value of educational activities. In some cultures, field trips — such as a trip to the zoo — might be seen as an extravagance and not a necessity. As you send home permission slips, you might need to send a flyer — which students can translate — explaining why the trip is more than just a fun outing.


Schedule meetings when parents can come. Many immigrant parents work at jobs with hours that might conflict with parent-teacher conference times. Try to schedule meetings on parents' days off, and, if possible, schedule a monthly time to meet individually with interested parents so they can learn about their child's progress and what they need to practice at home. This may take a bit more time at first, but the payoff — committed parents who are eager to be a part of their child's learning — may just be worth it.
This article originally appeared in Teacher magazine, published by Scholastic.