When teaching the life cycle of a pumpkin, this fun fall activity illustrates how a pumpkin goes from seed to sprout to flower to pumpkin!
What You Need:
Pencils
Orange construction paper, four pieces per student
Scissors
Green pipe cleaners, two per student
Yellow tissue paper, one piece per student
Green construction paper, one piece per student
Green crayons or markers
Glue
Pumpkin seeds
Paper towel rolls, one per student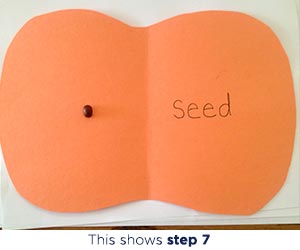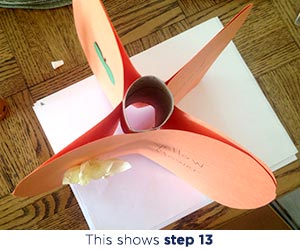 What You Do:
Each student draws one large pumpkin on each piece of orange construction paper. The pumpkins should be about the same size and shape, so that each student creates four matching pumpkins.
Have children cut out their pumpkins.
Students cut a 4-inch piece of green pipe cleaner and fold it in half to represent a sprout.
Lightly crumple pieces of yellow tissue paper to represent the yellow flower phase of the life cycle.
Students draw a small pumpkin on the green construction paper and cut it out.
Students now gently fold all four orange pumpkins in half, vertically.
On the first pumpkin, have students write "seed" with a green crayon or marker on one half. Direct them to glue a pumpkin seed to the other half.
On the second pumpkin, students should write "sprout" on one half, and glue the green sprout to the other.
On a third pumpkin, they should write "yellow flower" and glue down the yellow tissue flower. Have them draw a vine under the flower.
On the fourth pumpkin, students write "green pumpkin," and glue the small green pumpkin to the other half.
Let the glue dry on all of the pumpkins.
Have students carefully glue each crease to the paper towel roll.
Students glue the backs of the pumpkin halves together. Each completed project should have four sides, each displaying a stage of the pumpkin's life cycle.
Students use pipe cleaners to create vines and attach them to the top of the paper towel roll.