Proud to Be Presidential Pets!
From cats and hamsters to dogs and ponies, pets have long been a part of life at the White House for Presidents and their families.
Currently, presidential pets Barney and Miss Beazley have the run of the White House lawn. Both are Scottish terriers and have responsibilities regular pets usually do not.
Barney is the star of four films on the White House Web site, and "answers" (mostly with woofs and barks) questions submitted from curious kids.
The newest addition to the family, Miss Beasley, will probably make her own film debut someday. She has already been a lead story in news around the world.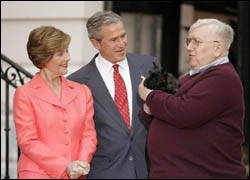 President George W. Bush and Laura Bush receive Miss Beazley, their new Scottish Terrier puppy, from breeder Bill Berry on January 6, 2005. Miss Beazley is a birthday present from the President to Mrs. Bush. (Photo: White House photo by Paul Morse)
Historic pets

The White House was a much-more crowded place when Theodore Roosevelt was President. In addition to his six children, he also had dogs, cats, a rat, a parrot, and a black bear!

President Kennedy's daughter, Caroline, had a pony named Macaroni, who was a gift from then-Vice President Lyndon B. Johnson. Macaroni was very popular with kids. He received letters from children everywhere.

President Kennedy and his family had many pets, including dogs, rabbits, birds, and even two hamsters named Debbie and Billie.

President Lyndon B. Johnson kept beagles. He was once photographed holding the beagles, named Him and Her, by their ears! After an uproar from people who thought he was mistreating the dogs, Johnson explained that he was simply demonstrating the right way to carry the breed. Johnson was a known animal lover.

Many years before President Clinton's cat Socks roamed the halls of the White House, President Carter's Siamese cat Misty Malarky Ying Yang called the most-famous house in the nation home.

President Franklin Delano Roosevelt so admired his dog, Fala, that he brought him everywhere—even to one of his four inaugurations!

To find out more about Presidents and their pets, check out these Web sites. Explore the White House for Kids and learn more about Presidential pets.