This craft can be a Halloween decoration or cute addition to a bulletin board about bats.
What You Need:
White paper plates (two per student)
Scissors
Tape, glue, or staples
Black and white paint
Paintbrushes
Googly eyes
Optional for hanging the craft: Hole punch
Optional for hanging the craft: Yarn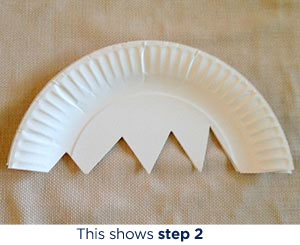 What You Do:
Give each student two paper plates.
Have the students cut one plate in half, then stack the halves on top of one another. Next, the students should cut a row of four triangles into the stack, on the non-ridged side of the plate halves (as shown). Each half of the plate is now a bat wing. Keep the triangle scraps.
The second paper plate serves as the bat's body. Set the plate flat on the table (as you would to eat from it). This is the back side. Have the students tape, glue, or staple the wings to each side of the body.
Using the scraps from the wings, have students cut out two small triangles for feet and two for ears. Attach the feet to the bottom of the bat and the ears to the top with tape, glue, or staples.
Flip the bat over and have children paint the entire thing black.
Allow the bats to dry completely.
Have students paint on a mouth with white paint and glue on two googly eyes.
To display the bats, staple them to a bulletin board. Or, to hang the bats, punch a hole at the top of the plate and loop yarn through it.