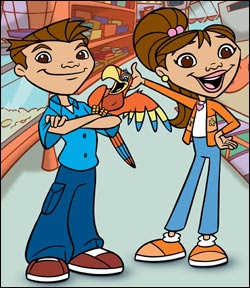 Maya and Miguel in their parents' pet store.
(Photo: © Scholastic Entertainment Inc. All rights reserved.)
A pair of animated twins burst on the TV scene last fall. Maya & Miguel, created by Scholastic Entertainment is a hit series on PBS Kids Go! about two kids and their adventures.
In each 30-minute episode, viewers can laugh and learn from the twins and the rest of the Santos family. The twins' parents run a local pet store. The Santos family has a bilingual pet parrot named Paco, who speaks Spanish and English. And don't forget Maya and Miguel's grandma, cousins, friends, and more.
Watch
Maya & Miguel
to have some fun and learn about the Latino culture. Be sure to check out Scholastic's
Maya & Miguel
Web site
.
NEW:
Maya & Miguel's Sport-Tacular!
Up for a challenge? Get active and
get in on the action
, then make sure to race back in time to catch your favorite Maya & Miguel
sports-themed episodes
.