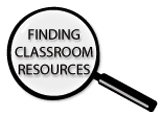 So many teachers spend generous amounts of their own money on classroom supplies and teaching materials. But before you dip into your wallet, consider these useful sources!
First, find out what's available from your school and whether you might be allotted a small budget for discretionary expenses.
After that, touch base with other teachers, educators, librarians, family, and friends to find out what resources they might have to offer. Chances are they have activities, software, books, magazines, games, learning toys, and even furniture they'd be happy to lend or give. Once those resources have been tapped, start bargain hunting. No matter where you go, let people know that you are a teacher. You will be amazed at the number of people who will offer good deals to teachers. Here are a few places to start:
Garage sales are wonderful resources for new teachers. You'll find books, puzzles, tapes, stuffed animals, decorations, and items you can use for math, science, and social studies.


Thrift stores often have children's books and other useful items for your classroom at bargain prices. You may also be able to pick up an inexpensive camera to keep in your classroom for the wonderful times you'll want to record.


Public libraries sometimes have more than a great selection of children's books. Many stock resources for teachers, such as theme units, books on tape sets, guides for using children's literature, and so on. Some libraries also sell or give away old books or magazines that might just be right for your classroom.


Craft and material stores often give teachers a discount on items that teachers use in their classrooms like felt, buttons, ribbons, fabric, and fabric glue. Before you buy, ask!


Local bookstores may offer teacher discounts on classroom books. Call around to see what deals are available.


Ranger stations, visitor's centers, and other tourist centers may be willing to give you materials for your classroom, or at least offer a teacher's discount. I had the good fortune of visiting a local ranger station my first year of teaching. The ranger provided free bookmarks, fire-safety badges, posters, rulers, and pencils to give my students.


Want ads help you locate specific items that you need for your classroom. When I began teaching, I put a want ad for encyclopedias in the newspaper. Thanks to some kind folks who answered my ad, I received three encyclopedia sets, only one of which I had to pay for once the sellers found out that I would be using them in my classroom.


Book-order clubs such as Scholastic Book Clubs offer a wonderful selection of children's books at a discounted price. It's a great way to get books into your classroom library as well as into your students' homes. Book clubs advertise discounted resources for teaching in their monthly mailers. In addition, student book orders generate points for you to use to buy classroom books. Organizing a book fair is another way to generate income and points toward more books.
This article was adapted from The New Teacher's Complete Sourcebook: Grades K–4 by Bonnie P. Murray (© 2002, Scholastic).