The swamps of the Everglades, geysers of Yellowstone, and sheer majesty of the Grand Canyons await! Tour these and other national parks with your students with a little help from the National Park Service's websites.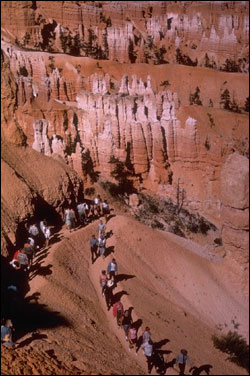 Bryce Canyon National Park.
(Photo: © NPS Photo)
Bryce Canyon National Park
Bryce Canyon, Utah
Hoodoos — distinct pillars of rock shaped by erosion — in red, orange, and white create an incredible landscape, often described as "castle-like." There is even a spot called Fairyland Point! Not only eye-popping by day, Bryce Canyon National Park is located far from the distracting light of civilization and offers a prime view of the night sky. The park even hosts moonlight hikes and star parties.
Everglades National Park
Miami, Naples, and Homestead Florida
The Everglades National Park extends throughout the southern tip of the Florida peninsula and most of Florida Bay. It's known for its rich bird life, including herons, sandpipers, and egrets. Did you know that the Everglades National Park is the only place in the world where alligators and crocodiles exist side by side? Learn more about this vast park and what has threatened it.
Grand Canyon National Park
Grand Canyon, Arizona
At almost 18 miles wide and one mile deep, "grand" is a befitting description of this park, one of the most remarkable natural wonders in the world. Nearly five million people visit it each year, most taking in the views of the South Rim rather than those of the less popular North Rim, though both are seasonally open to the public. Mule trips, hiking, and whitewater rafting offer various ways of experiencing the canyon and the Colorado River.
Grand Teton National Park
Moose, Wyoming
Seeing an elk, moose, or bison in the 40 miles worth of mountains is common at this park, which is also home to roughly 300 species of birds, including bald eagles! Hiking, walking, fishing, swimming, canoeing, and biking are popular summer activities, where the jagged edges of the Teton mountain range serve as a breath-taking backdrop.
Rocky Mountain National Park
Estes Park and Grand Lake, Colorado
Visitors of this park can travel along the highest continuous paved road in the United States, the Trail Ridge Road. The park also has 359 miles of trail for hiking, backpacking, and horseback riding for those taking in the snow-capped mountains and large-animal population, including elk, bighorn sheep, moose, and mule deer.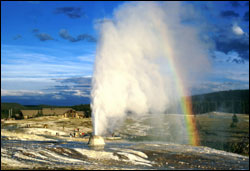 Beehive Geyser at Yellowstone National Park.
(Photo: © NPS Photo)
Yellowstone National Park
Yellowstone National Park, Montana, Idaho, and Wyoming
America's first national park, established in 1872, is home to Old Faithful, the hot-water geyser famous for its timely eruptions — take an online tour here. Grizzly bears, black bears, mountain lions, wolverines, and wolves and other predators all roam the area, keeping visitors on the lookout. Two popular hikes include the Mystic Falls Trail, a two-mile walk that lets you see the park's ecosystem, and the Black Sand Walk, which explores Yellowstone's volcanic activity.
Yosemite National Park
The Sierra Nevada, California
Famous for its waterfalls, the park offers various hikes that let visitors glimpse the majestic falls every spring, including Yosemite Falls, which is the tallest waterfall in North America at 2,425 feet high. The Glacier Point overlook, the massive, ancient Sequioas, and the rock climbers at Half Dome are some of the park's highlights.
Zion National Park
Springdale, Utah
Zion National Park is known for its stunning red and pink sandstone cliffs, slot canyons, and more than 1,000 species of plants, from desert-adapted prickly pears to towering pine trees up in the park's higher elevations. Animal life is varied: rattlesnakes, California condors, gray foxes, and mountain lions, among other animals, call the park home.