Read one of the many versions of the ancient Ukranian story The Mitten before beginning this mitten-making craft. Three different picture book versions are included in the Related Resources section below. Students will love adding the animal characters at the end!
What You Need:
Construction paper in assorted colors
Pencils
Scissors
Hole punches
Yarn in assorted colors, cut into 36-inch pieces, one per student
Tape
Cotton
Glue
Crayons
White drawing paper
Pictures of animals from "The Mitten" story, available from Jan Brett's website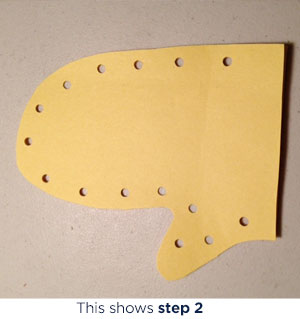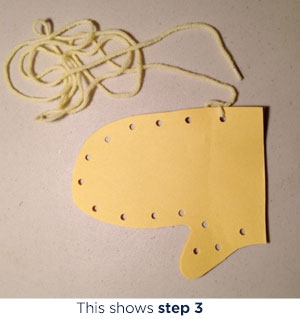 What You Do:
Have your students place one hand on a piece of construction paper with four fingers together and the thumb sticking out. Have them trace around the same hand twice, then cut out the two mitten shapes.
Ask the students to stack the two mitten shapes and punch holes outlining the entire mitten, except for the base of the shape. Holes should be about an inch apart and somewhat close to the mitten's edge.
Next, each of your students choose a piece of yarn. Tell students to keep the mittens stacked and tie one end of the yarn through the first hole on the mitten.
The students can wrap a piece of tape around the loose end of the yarn to make lacing easier.
Students then lace the yarn through the holes around the mitten. After the last hole, they should tie the yarn off and cut away excess.
Have your students glue cotton to the base of the mitten as trim. This can be done on one or both sides of the mitten.
Hand out the white drawing paper or printed copies of the animals featured in "The Mitten." The students can choose whether to draw and color their own animal drawings or to color in the pictures.
Have the students put the animals inside the mitten pouch. They can use their mittens and animals to retell the story.