Put all your primary source material into context with this interactive map that allows you to place each document in time and place.
Use this map activity to explore the location of key places during the Civil War. Return to the map as you explore other primary sources to provide geographic context for each document.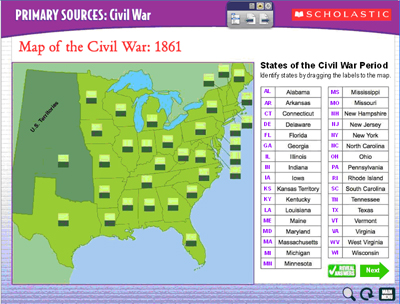 Image of the Interactive Map
Download the File
Primary Sources for the Interactive Whiteboard: Map of the Civil War
NOTE: If you don't already have ActivInspire software, you can access a free personal version after registering with Promethean Planet. Once you have downloaded the software, and you have clicked on a Primary Source folder, you will be prompted to fill out a Promethean License Agreement. If you do not wish to do this, simply click on the box next to "I accept the terms of this license" and then click on the "Run Personal Edition" option.
States of the Civil War Period
1. Drag each state abbreviation from the chart on the right to the correct place on the map.

2. Click Reveal Answers to check the answers or to see the map filled in without completing the activity.
More Activities From Primary Sources For The Interactive Whiteboard
Civil War Timeline
Slaves for Sale: 1850s–1860s
About The Book
Primary Sources for the Interactive Whiteboard (Grades 6–8), by Karen Baicker, features more than 60 whiteboard-ready documents with background information, guiding questions, and interactive activities to help students gain a deeper understanding of history. It includes maps, journals, political cartoons, newspaper articles, photographs, advertisements, and more, bringing Colonial America, Westward Movement, and Civil War to life for your students. Includes a CD with Promethean ActivInspire files. Copyright © 2011 by Karen Baicker.
About Scholastic Professional
Scholastic Professional offers a range of books, DVDs, Study Guides, web downloads, and other resources and services that can support you as you make the dozens of daily instructional decisions that may forever shape the lives of your students. These resources bring together essential research and effective practice while always recognizing the challenges and pressures you face. Our mission to serve you is shaped by equal measures of passion and compassion. To learn more, visit us at Scholastic Professional .