Your students will recreate Robert Indiana's iconic LOVE graphic with this easy and fun print. For more information about Robert Indiana, visit his official website.
What You Need:
Foam sheets
Capital letter templates
Pencils
Scissors
Colored cardboard
Tape
Red, white, purple, and pink paint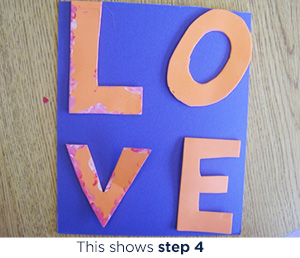 What You Do:
Have your students use the letter templates to trace the letters "L," "O," "V," and "E" onto a sheet of foam.
Help your students cut out each letter.
Distribute a piece of cardboard to each student. Have the students tape down the foam "L" and "O" across the top of the cardboard with the "O" angled out. The tape should be concealed under the letters.
Have your students tape the "V" and "E" across the bottom of the cardboard, as shown.
Have the students dip their fingertips into the various paint colors and dab around the letters, covering all of the exposed cardboard with paint prints. When they are finished, set the artwork aside to dry.
Once the paint has dried, have your students carefully remove the foam letters to reveal the word "LOVE."
Extension Activities
Have your students write Valentine's Day poems to attach to the back of their prints or use the following poem:
I know you wipe some away,

But these prints were made to stay.

So keep them forever, a treasure they'll be,

A special "I LOVE YOU" for you from me!