To meet the needs of every student, a classroom is designed to represent a wide range of children with a wide range of reading abilities. A successful reading program not only integrates small group instruction, assessment, and independent practice, but also incorporates whole group instruction and professional development for the teacher. The classroom below is designed for a variety of work areas that comfortably and invitingly suit many teaching settings — whole class, small groups, and independent work.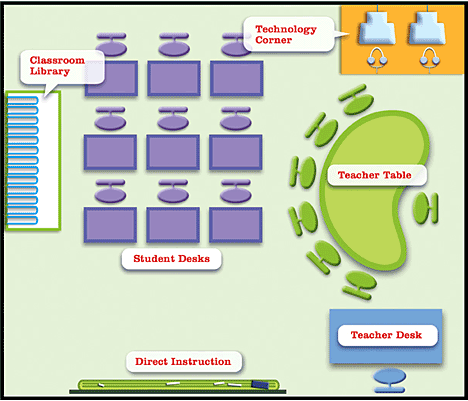 Teacher Table: The Teacher Table is ideal for small-group reading instruction. It is where teachers are able to interact with children who exhibit similar reading abilities through instructional lessons that focus on a specific topic, theme, or idea. This space should be large enough for the number of students participating, and in a central location where the teacher can scan the entire classroom.
Technology Center: When working with small reading groups, other students may visit the classroom Technology Center to extend and reinforce strategies from reading lessons. Students can also work on a variety of independent writing projects, or respond to reading in their journals. Encourage older students to work on reading or writing components of long-term projects.
Student Desks: Student desks should be arranged in a manner that is conducive to learning during whole group class instruction. It is here where students will work independently or participate in group lessons.
Classroom Library: The Classroom Library houses most of the books in your classroom, including ones students can read independently. To keep the library collection fresh and current, rotate books, and retire ones that no longer interest students or are outdated. You can promote independent reading by providing browsing boxes of books that students have read in guided reading, or new books on the same level.
Direct Instruction: This is where the class comes together for meetings, sharing, and other activities, before or after small group reading lessons. Shared reading and read-aloud lessons usually take place in this area of the classroom.
Teacher Desk: The Teacher Desk is where instructional preparation and lesson planning occurs. Teachers determine how to group students, decide which topic or theme will be covered, and outline their daily lesson plans. The teacher desk is also an area of where assessments can be analyzed and professional development can take place.