Celebrate the colors of Kwanzaa (red, black, and green) with this easy-to-make craft.
What You Need:
Scissors
Egg cartons, enough to give each student seven egg cups
Red, green, black, and brown paint
Paint brushes
Craft sticks, seven per student
Yellow tissue paper
Glue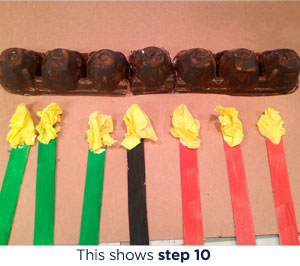 What You Do:
Before class, prepare the egg cartons by cutting each egg carton in half so you have two long strips of six egg cups.
Set aside one strip for each student.
Cut the remaining strips into single egg cups.
Glue a single egg cup onto each strip of six egg cups.
Repeat until you have a strip of seven egg cups for each student.
In class, hand out a strip of seven egg cups to each student. Have students flip the strips over and use one end of the scissors to make a horizontal slit in the top of each egg cup. Each slit should be just large enough to fit a craft stick.
Have students paint the entire outside of the egg carton brown. Set it aside to dry.
Have students paint three craft sticks with red paint, three sticks with green paint, and one stick with black paint. Set them aside to dry.
Have students tear out seven small pieces of yellow tissue paper and crumple them -- these will represent candle flames.
Once all paint is dry, students can glue a crumpled piece of tissue onto each craft stick.
Place the craft sticks into the slits so there are three green on one side, three red on the other, and one black "candle" in the middle.