Diana Rendina gave her middle schoolers a dream assignment: Create something that can fling something else. One student gleefully constructed a crossbow out of pencils, duct tape, and rubber bands. Another built a catapult from Legos. "It's organized chaos," says Rendina, the media specialist at Stewart Middle Magnet School in Tampa, Florida.
Whether you call it organized chaos or joyful learning, that scene illustrates why the maker movement has galvanized teachers and started a mini-revolution in K–8 classrooms. In "making," kids ponder a question and then tinker their way to an answer. It encourages critical thinking, creativity, and working in teams, and it can incorporate science, technology, engineering, the arts, and math.
Such open-ended exploration may sound expensive and complicated. But maker materials needn't be high tech; they can be as simple as markers, cardboard, and dollar-store items. And you don't need a degree in engineering to guide students.
Maker teachers say that it provides a natural way to fulfill curriculum standards while captivating students. "Student engagement leads to problem solving," says Dave Zirkle, a technology educator at Edward J. Patten Elementary in Perth Amboy, New Jersey. "With some creative thinking and planning, teachers can cover the standards and have an environment that truly engages students."
Your classroom or the school library will work fine as your "makerspace," and your first project could be as simple as asking students to create something meaningful to them with materials you have on hand. "I suggest not focusing on the stuff like littleBits at first," says Diana Potts, K–5 academic technology integrator at Ethical Culture Fieldston School in the Bronx, New York. "Kids can be just as creative and innovative with a cardboard box, duct tape, and their imagination."
Many of the projects that follow can be adapted to be easier or more challenging. Set a time limit for each phase of the work to keep motivation high, and watch your students go!
The Catapult Challenge
What You Need: Options include K'nex or other building sets, rubber bands, Popsicle sticks, toilet paper tubes
NGSS Standards: MS-ETS1-1; MS-ETS1-2; MS-ETS1-3
Best For Grades: 6–8
What To Do: Define catapult for students, and explain that they will create their catapults individually or in teams. Give them time to work through the design process. Establish ground rules, such as never pointing their device at another student and testing it only in a designated area. End with a shoot-out competition for distance, accuracy, or speed. Rendina, who developed this idea with Denton, Texas, teacher-librarian Colleen Graves, shows what students created online.
Rube Goldberg Design
What You Need: Recycled materials, toys, marbles, balls, dominoes, various classroom objects
NGSS Standards: MS-ETS1-1; MS-ETS1-2; MS-ETS1-3; MS-ETS1-4
Best For Grades: K–8
What To Do: Let students immerse themselves in everything they can find out about inventor Rube Goldberg and his machines. (Watch this example for fun ideas.) Each student designs a machine on paper. Then, have kids form teams so they can compare notes and create a single team design: a machine that pops a balloon, traps a Lego figure, and so forth. Over several days, students build their machines and then share them with the class, reflecting on what worked and what didn't, says Angela Rosheim, teacher-librarian at Lewis and Clark Elementary School in Liberty, Missouri. (See Cool Teachers, Fall 2015.) "Students are thrilled at the opportunity to just be creative."
Super Paper
What You Need: Scrap paper, scissors, rulers, pencils, books to use as a weight
NGSS Standards: 3-5-ETS1-1; 3-5-ETS1-2; 3-5-ETS1-3
Best For Grades: 3–5
What To Do: Divide students into teams, and tell them that each team must figure out a way that paper can support a book or other weighty object a minimum of one inch above the table or floor for at least a minute. Ask students if this is possible, and when they say no, cut a piece of paper into one-inch strips and fold the strips in half. Will enough of these support a book, or even a stack of books? Encourage students to experiment. (Hint: Winding the strips into curlicues by wrapping them around a pencil, then distributing them evenly beneath the book just might work, says project developer Dave Zirkle.) See a few examples at this link.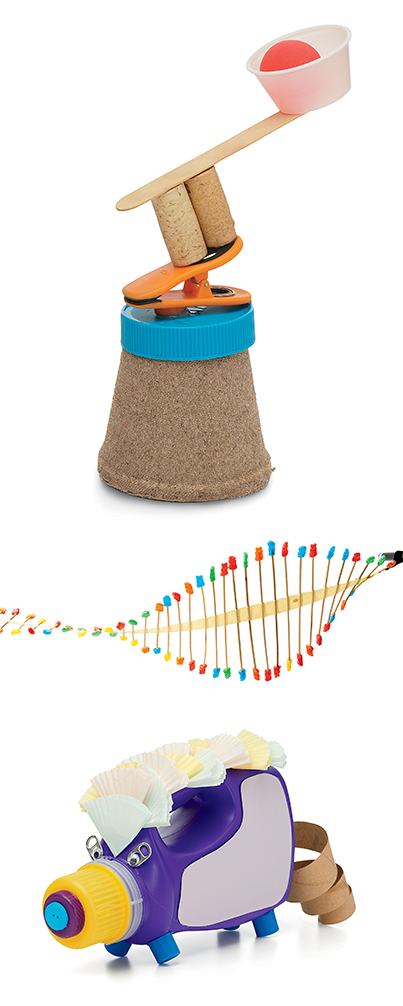 Cardboard Furniture
What You Need: Cardboard of all kinds (scraps, cartons, corrugated pieces, paper towel tubes); duct tape in different colors; scissors; rulers and tape measures; pens and pencils; butcher paper or recycled printer paper; decorative items, such as fabric; markers; paper cups; foam pipe insulation; hot glue
NGSS Standards: 3-5-ETS1-2; 3-5-ETS1-3
Best For Grades: 3–8
What To Do: Ask teams of two to four students to look at furniture from various angles, and notice the different shapes (triangles, rectangles, squares, etc.) that make up furniture. Have students brainstorm designs, whether for real furniture, like a table, or for something fanciful. Let them handle and put materials together in different ways informally, then sketch their designs on paper. Then, they're ready to make their creations. Find out more from the Maker Education Initiative and the Girl Scouts here.
Solve-It Science Fair
What You Need: Household items (varies with project)
NGSS Standards: 3-5-ETS1-1; 3-5-ETS1-2; 3-5-ETS1-3
Best For Grades: 3 and up
What To Do: Students identify a problem in their own lives that could be solved with a new product. (Show Kickstarter videos about inventions for inspiration.) After students brainstorm ideas individually or in teams, they interview potential adult users of their product. Is the idea appealing? Would the design be easy to use? Building the invention comes next, although Potts says it's not necessary for the invention to actually work; it only needs to show what the students have in mind. Inventions from Potts's students at Fieldston include shoes for a dog that would mop the floor as the dog walks, an "alarm" pillow that vibrates, and a shovel with a heated tip to remove ice.
Book Connections
What You Need: Cardboard, paper, plastic containers, recycled materials, craft supplies, wood, hand tools, brads
NGSS Standards: K–2 ETS1–3 Engineering Design
Best For Grades: K–8
What To Do: Stephanie Passman, a gifted resource teacher at Stony Point Elementary in Charlottesville, Virginia, decided to see what problems would arise naturally when she and her co-teachers assigned students to make something related to a book they were reading. Kids created a plan with pictures and words, and then started building. "One student decided to make an octopus to represent her book, and went through many iterations using different materials," says Passman. "She was the one who decided it was a problem, so she wanted to solve it. Because there is personal meaning in their making, they are driven to solve the problems."
Pop-Up Cards
What You Need: Copper tape (conductive on both sides), LED 3- or 5-MM lights, construction paper, CR2032 coin-cell batteries, glue stick, tape, markers, scissors, stencils
NGSS Standards: 3-5-ETS1-2; PS4.B
Best For Grades: 3–5
What To Do: Students love the idea of making pop-up cards that light up. There are two stages to this project: fashioning the pop-up element of the card (stencils can be helpful in creating the design) and developing a circuit to produce the light. The design can be anything from an animal to a skyscraper to a robot. Students place a small LED light anywhere on the card and use copper tape to complete the circuit to a battery. Full directions can be found online here.
Gummy Bear Wave Machine
What You Need: Duct tape, gummy bears, skewers, set of clamps
NGSS Standards: 4-PS4-1; 4-PS4-3; PS4.A: Wave Properties
Best For Grades: 4–6
What To Do: This is a favorite for Meredith Martin, a STEM teacher for Mantua Township Schools in Gloucester County, New Jersey. First, use clamps to tautly attach the ends of a long strip of duct tape, sticky side up, to the ends of two tables. Center skewers equally across the tape (about five centimeters apart) with the pointed ends sticking over each side. Stick gummies on the ends of the skewers. Gently tap one end of the tape (or a skewer) to start the wave. What happens when the wave reaches the end? "When we started the wave machine, students said, 'Oh, now I get it!'" says Martin. See a wave machine video.
Makey Makey Game Controller Challenge
What You Need: Makey Makey kit, foil, conductive objects (anything with metal or copper)
NGSS Standards: 3-PS2-3; 4-PS3-2
Best For Grades: 5–8
What To Do: If you're ready for a more advanced project, this one from Texas teacher-librarian Colleen Graves has students creating a game on Scratch (a free programming resource from MIT Media Lab) and designing a game controller with Makey Makey. Students use an everyday object that is conductive—like a marshmallow!—as the controller to guide a cat through a maze, a ship through space, or a ball through flaming obstacles. Graves encourages teachers to jump right in. "Don't be afraid to fail. Failing is how inventors learn. And don't wait until you know how to do something before trying it with the kids. Learn alongside them!" (Find detailed, day-by-day lesson plans on their website.)
Images: Adam Chinitz
Crafts: Laura Kaesshaefer