As I work with a guided reading group, I want all the other children in my class to be learning at centers — and to move from center to center independently. To make sure this happens, I developed what I call our "literacy center board." At the top of the board, there is a card with a list of children's names — for my class, I have five cards, with the names of four to six children on each one. These cards tell children who is in each group. Beneath each list, place four cards, each with a center icon on it. This makes it very easy for each child to figure out independently which center he or she should be working at, and when.
Here are some possibilities for creating a literacy centers board.
Magnetic Blackboard
The magnetic wall center is another place where word study concepts are practiced.
Organization and Routines
Designate a Space
Take a look around your classroom to see whether there are any magnetic surfaces. In some classrooms, the heating/cooling unit has a magnetic surface. You can also hang a magnetic white board low to the ground for children to use as a center. You might even be able to square off a section of your blackboard to be used as a magnetic wall center. If you are having trouble finding a space, you can have the children use small magnetic boards on the carpet, giving each child his or her own board to use for the activity.
Storing Materials
Make sure you have all materials nearby. I have a shelf near the center on which I store individual bins, cups of markers, and a paper sorter to hold any papers students need to complete.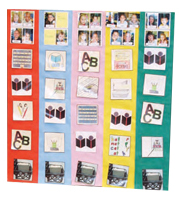 Magnetic Wall Center in Motion
At this center, students can practice building the words that they are learning in class. These words might be high-frequency words or words with similar spelling patterns or vowel sounds. Always remind students to build the words from left to right, just as they would when writing.
I keep markers in the colors that match the magnetic letters nearby for any written activities associated with the center. Children love to record their word by using the same colors as the magnetic letters.
Pocket Chart
The pocket chart center can be used for a variety of activities. Sometimes I use it as another way to support children with a word study lesson. I also use it with poetry. On sentence strips I write words or phrases from a poem we've read in shared reading. Students can then manipulate and read the words in poems, using the pocket chart. Also, once a poem has rotated through the poetry center, I may move it to the poetry pocket chart.
Organization and Routines
Designate an Area
For the pocket chart center, choose an area in your room where you can hang a pocket chart that students can use daily. A pocket chart stand might work, or you can try to find a way to adhere the chart to a wall. The pocket chart shown in the photograph is drilled into the concrete wall in my classroom, but I have also stapled the pocket chart to the wall when my classroom didn't have concrete walls. Be sure that the pocket chart is at eye level and can be reached by all students. Also keep in mind that the center area needs to have enough open floor space for children to be able to spread out the sentence strips in order to piece the poem together.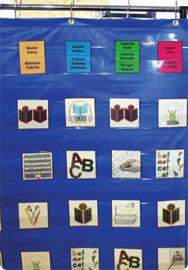 Storing the Letter Cards and Word or Sentence Strips
I have found that the best way to store the materials students will use in the pocket chart is in a manila envelope. I cut off the top of the envelope, punch holes in the corners, and use yarn or string to hang it nearby. You can also hang the envelope on a hook, a thumbtack, or a hat rack. When using the center for word study activities, you can write the directions for the activity on the front of the envelope. If students are working with poetry at the center, print a copy of the poem on the outside of the envelope. This will give your students the opportunity to self-check their work and correct any mistakes that they have made.
Pocket Chart Rules
With your students, write rules for your pocket chart center during shared or interactive writing. Make sure that the language is simple, and have children reread the rules each time they go to the center. You may need to change the rules depending upon what kind of activity the children are using the pocket chart for. The rules in this photo are for organizing word strips in a poem, and then finding consonant blends in the poem.
Pocket Chart Center in Motion
These photos show children using the pocket chart to figure out the order of words in a poem. I always encourage children to build the poem from left to right to develop reading skills. I hang the enlarged copy of the poem nearby to assist them. This also gives them another way to check their work.
Once the poem has been completed in the pocket chart, have the children read it together several times. You can also ask children to highlight words that go along with the word principle you are working on. For instance, these students are using a fly swatter with a hole cut out of it and a pointer to locate consonant blends in the poem.
Presentation Board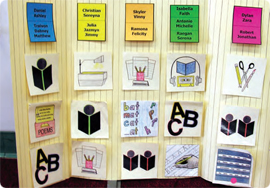 If you use a presentation board, you can take it out during center time and put it away when done.








Felt Board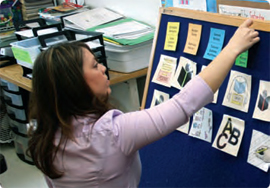 Velcro on the back of each icon allows it to stick to the board.
---
This is an excerpt from Literacy Centers in Photographs by Nikki Campo-Stallone.