With this easy fall craft, young students explore what's inside of pumpkins.
What You Need:
White construction paper
Pencils
Scissors
Pumpkin seeds (in shells)
Small plastic bowls, 3 per student
Orange, green, and brown paints
Tacky glue
Orange construction paper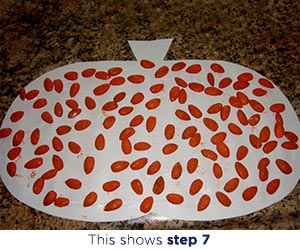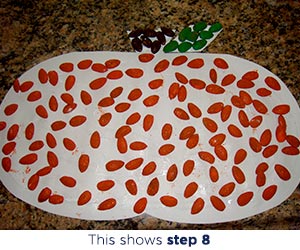 What You Do:
Using the white construction paper, have students draw and cut out a pumpkin shape, including a leaf and stem.
Each student place about 60 to 70 pumpkin seeds in a bowl. Pour orange paint on top of the seeds, and let the children mix them around until they are all covered.
In a second bowl, students place about seven pumpkin seeds. Pour brown paint on top, and let students mix them around until seeds are covered.
In a third bowl, students place about eight pumpkin seeds. Pour green paint on top and let them mix it around until seeds are covered.
Let all of the seeds dry. You may suggest the students lay them out on another piece of construction paper so they don't clump.
Have students spread tacky glue all over the pumpkin shapes they cut out.
Students can place the dried orange seeds onto the glue to cover the pumpkin, except for the leaf and stem.
Students can add the brown seeds to the stem and green seeds to the leaf.
Mount the pumpkins on orange construction paper.