Giving children time to read independently is an important part of my literacy program. My independent reading center includes lots of books at a range of reading levels.
Organization and Routines
Independent Reading Library—In order to monitor children's independent reading, I find it helpful to level the books in my library. I want children to have the opportunity to select a book that is just right for them, so I put books at a range of several levels within a basket, giving children the chance to make an appropriate choice. For instance, I place books at guided reading levels A–E in red bins, levels F–I in orange bins, levels J–L in yellow bins, and levels M–N in green bins. I may also choose not to put bins out if I do not currently have children reading at those levels.
Guiding Your Students—Students need a way to know which basket has an appropriate range of books for them to read. To help them with this, I post a class list in a clear plastic photograph frame. Next to each child's name, I color in a dot that represents the basket that is appropriate for them. This list is flexible, of course, changing as the year progresses.
A Closer Look at the Independent Reading Chart—This row helps Ramona know which bin includes appropriate books for independent reading. By looking at the chart, she will be guided to either the orange or yellow bin to select books to read.
Housing Independent Reading Folders—Students will need to know where to find their independent reading folders in order to make this center run smoothly. I keep the independent reading basket above the independent reading library, next to the class list that notes which basket they should select books from.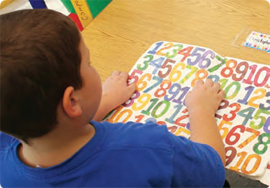 Logging in Independent Reading Books—As I did with the buddy reading center, I want students to be accountable for completing their reading. Each student has an independent reading folder that I create out of a pocket file folder. In the folder, I include a sheet for recording the titles and authors of the books he or she reads. (See Appendix F.) I put the independent reading icon on the cover, along with the child's name on the tab, and inside I staple the log sheet. Each time students complete a sheet, I staple a new one on top of it. This way, they have a clear record of the books they have read independently throughout the year — and having a list of all the wonderful books they've read is a source of pride for students! On the other side of the file folder, students can store any reading response papers they complete when they're ready to do this kind of work independently.
Independent Reading in Motion
During independent reading, the first thing students need to know is how to check the independent reading chart to see which bin is appropriate for them. Show them how to find their name and how to match the color of the sticker to the sticker on the appropriate basket. Next, have your students look through the appropriate baskets in order to select a book that is just right for them to read on their own. Once a student has selected a book to read independently, he or she should look for a place to read. I encourage students to look for places that are quiet and away from distraction so they can concentrate on their reading.
---
This is an excerpt from Literacy Centers in Photographs by Nikki Campo-Stallone.