There is so much to do for that first week back. Where do you start? Here are a few suggestions on what works for me.
Organization 101
The number one thing on my to-do list — get organized! I spend a lot of time thinking about what would work for me, how to utilize the space I have, and how to keep everything straight.
Start with the essentials. I begin by setting up organization bins and shelves.
Get creative with space. Our school sells school supply packs that come in pizza-sized boxes. I save these and use them to store materials in a unit. I don't have much room, but these boxes make it easy to stack things and find them again fast.

Recycled boxes keep things organized.

Create a color-coded system. I teach four different classes. I assign each class a different color (when I taught just one class, each subject was assigned a different color).

I use paper trays to separate each class' color-coded folders, and I put them in an accessible spot in the classroom. This helps me out tremendously!
Have students follow the organization system. My students know their colors and I use that to guide them in classroom routines and procedures. For example, I place supplies for each class in plastic cups in their class color.
Get set up before day one. I have things like the shared classroom supply cups (with pencils, crayons, markers, etc. that are brought out when needed) put together before students arrive.
The Comfy Classroom
After I've gotten myself organized for the start of the year, I focus on my classroom. I like my classroom to be comfortable, warm, and inviting. There are three big ideas that are important for setting the right feel.
1. Warm Lighting
I use lamps and lighted fixtures throughout the room. I frame pictures from the previous school year (just until I have pictures of the current class) and place them around the room.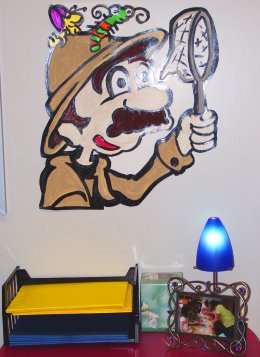 Adding extra light helps students feel at home.
2. A Theme for the Year
Every year I start with a theme. One popular theme has been "Bugs," which I integrated into the classroom in a variety of ways. To start, I decorate the door to my classroom with the theme. For the buggy idea, I placed pictures from the previous school year on the door along with a ladybug. Playing off the bug's spots, I added the catch phrase: "Can you spot creative learning in a unique environment?" This gave the incoming students a chance to sneak a peek at what was to come.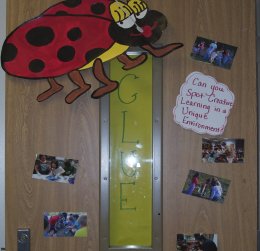 Combining a bug theme with the year's learning goals.
To carry the theme out throughout the school year I use the following:
Posters: I use an overhead projector to enlarge pictures of different bugs so I can easily trace them onto butcher paper or poster board. I paint the critters with craft paint, cut them out, and hang them on the classroom walls and door with catch phrases that describe our strategies of learning.
Handouts: Using graphics or the catch phrases, I add the theme to first-day handouts, my parent letters, and student folders.
Activities: I design activities that correlate to the theme. For example, I separate the kids into groups of 2-3 students and give them an array of craft supplies and they brainstorm and create a "new, undiscovered type of bug." I also read books to the students that reflect the classroom theme. Books might include:
Charlie the Caterpillar by Dom De Luise
The Itsy Bitsy Spider by Iza Trapani
Magic School Bus Inside a Beehive by Joanna Cole
Eyewitness Book on Insects
DK Reader Bugs
Big Bug Surprise, by Julia Gran
Magic School Bus: Science Chapter Book #11: Insect Invaders by Joanna Cole
Name tags: Students get a wearable name tags with bug artwork on them
3. First Day Activities
Once my room is settled, it's time to plan for students' first days. I create activities that will help students learn about each other, let them move around and get comfortable in the room, provide chances for them to work as a group, and challenge them to use creative thinking skills.
Who's Who? I begin with a name word search. You can easily create a word search using the free Web site www.puzzlemaker.com. Students find the names of all their classmates hidden in the puzzle. They work on these while everyone comes in and I collect supplies. Whoever gets done first gets to sit in my "Thoughtful Spot" (my special checking chair) and check everyone else's papers.
Get Up & Get Acquainted! I find that it helps to keep students active on the first day. So after the name search, we need to get up and move around. I hand out Find Someone Who… (PDF) sheets and clipboards. Each student has to collect signatures of every other student in the class (only once) and they need to write down a description that matches that person.
Warm Up Your Minds. Next, we move onto a brainteaser activity. Using www.puzzlemaker.com again, I create a cryptoquiz to learn about the strategies we will be using throughout the school year. For instance, we use brainteasers, creativity, creative problem solving, group dynamics, research, introspection, and group discussion as part of our curriculum; these are the phrases I use for the students to decode. I title the puzzle, "What's to come this year in CLUE?" and include words about things we will be learning this year in the CLUE (Creative Learning in a Unique Environment) Gifted and Talented program. This brainteaser requires the students to break a code to decipher the words, or phrases.
Tell Me About You! On day one, I also give the students an interest inventory called Clue Me In (PDF).
Let Your Creativity Show! To give the students a chance to be artistic and let their creativity flow, I have them cut a t-shirt out of large white paper. They then create "Me Tees!" Using a pencil, students write their name in the middle -- and yes, they are encouraged to write it creatively!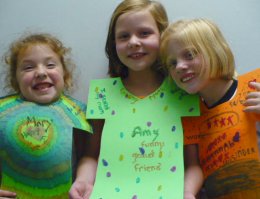 First graders show off their Me Tees!
Around the neck, they write their two favorite school subjects. On the right sleeve, they explain about what they think they'd like to be doing in 20 years. On the left sleeve, they describe something funny that has happened to them. On the bottom of the shirt, they write the last book they read and the last movie they saw. Finally, around their name they write three adjectives that describe them. We use watercolors to paint the t-shirts. They come up with great designs. At the end, they go back over their writing with markers. I hang the "Me Tees" from the ceiling on string with clothespins. I also include a descriptive t-shirt explaining the activity. The shirts look so cute hanging around the room, and the kids love sharing them!