Welcome to the new school year!
As you prepare for yet another exciting year, why not start your school year off with a party — a book leveling party! Now is an excellent time to reorganize and level your classroom library. With the help of some colleagues and Scholastic's Book Wizard mobile app, what once might have seemed like a monumental task is now simple and fun. So get together with colleagues, gather your books, add some food and music, and start leveling!

Step 1: Set a Date and Invite Grade-Alike Colleagues and/or Class Parents
"Two heads are better than one" is an appropriate adage when it comes to leveling your classroom library. Getting together with teachers from the same grade level — from your school or others — will make leveling your classroom library a much faster process than doing it alone. So go ahead and set a date. Personalize the event by sending out invitations!

Step 2: Decide on Book Categories, Book Leveling Systems, and a Book Checkout System
At our leveling party, we found that making decisions first was a key element in helping teachers get started and feel confident leveling books. Get a workable system in place by making the following five decisions before you begin:
1. Decide on the classroom book location and how much space you will need.
Many teachers find that they need to expand their library area when leveling and categorizing their books.

2. Decide on categories for your books.
Start with common fiction and nonfiction categories, such as animals, biographies, and holidays.
Sort by major social studies and sciences themes and curriculum topics.
Categorize "leftovers" by Lexile and/or Level.
For more ideas on categories, review Beth Newingham's virtual tour of her classroom library.


3. Decide on a type of leveling system and how you will code it for easy student access.
Leveling systems include Lexile, DRA, and Guided Reading Levels.
Review Ruth Manna's article about Leveled Reading Systems for further details.
Consider your grade level and any assessments that give you current data on students reading levels. For instance, some teachers level by Lexile because their students take a Measure of Academic Progress (MAP).
Code the books so it is easy for students to find the appropriate level. Your code system should not make student levels stand out. For instance, colored dots and colored tape can signify two distinct levels while the Lexile level is posted inside each book.
We came up with the following color coding system: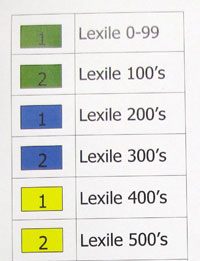 4. Decide on a checkout system so students know where to return the books.
A simple system will help your students return books to the correct basket.
Consider a book marker checkout system: Students place their assigned marker in the front of the basket when they take out a book and get their marker back when they return it.
Label the books with the basket title for easy returns.

5.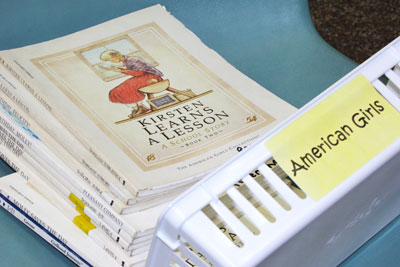 Decide on the type of basket you will use to display your books and how you will label them.
Baskets should be large and roomy enough for students to flip through and see book covers.
Find good, quality baskets from Scholastic Teacher Store.
Wal-Mart and Target carry great, inexpensive baskets.
Label the baskets in engaging colors with graphics that tie into the category.
Step 3: Start Leveling With Scholastic's Book Wizard
Now you are ready to start leveling! This sounds like the hard part, right? Wrong! Teachers at our leveling party found this step to be a piece of cake with the help of Scholastic's Book Wizard mobile app.
Go to Scholastic's Book Wizard mobile app and select the type of Scan a Book.

Scan the bar code. Your book or series of books will come up displaying the title, a picture of the book, its reading level, and if it has a Scholastic Reading Counts or Accelerated Reader quiz.
Follow up with the labeling and coding system you've chosen. Now that the book is labeled, you are ready to move onto another book or series. It's that easy!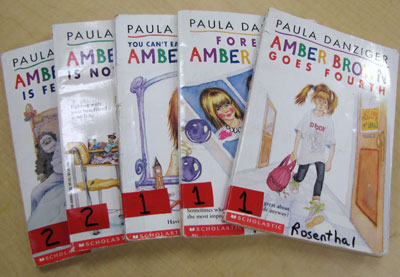 Here are a few strategies to help you finish leveling your books if time runs out:
Have a trained parent volunteer take a set of directions and a stack of books to level and label at home using Scholastic's Book Wizard mobile app.
Make leveling a class or small group activity. Allow students to assist in the leveling and labeling process.
Once your classroom library is organized and leveled, you are sure to find some gaps in your collection. Scholastic's Book Wizard can assist you in purchasing new books to strengthen your students' reading opportunities.