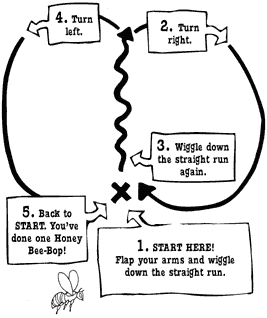 What to Do
IF YOU'RE THE SCOUT BEE:
Hide your hive's flowers. Then follow directions to dance the Honey-Bee-Bop. The dance will tell the worker bees where and how far away the flowers are.
IF YOU'RE A WORKER BEE:
Watch the Scout Bee's dance. Work with your hive-mates to understand the directions. Then go for the flowers!
Dance the Honey-Bee-Bop to Communicate:
Direction to the flowers: The "straight run" points to flowers.
Distance to flowers: The NUMBER and SPEED of the Honey-Bee-Bops in your dance tell how far away the flowers are.
Distance Key
If Flowers are VERY FAR AWAY
--25 feet (7.6 meters) or more
Dance 1 Honey-Bee-Bop VERY SLOWLY
If Flowers are FAR AWAY
--15-25 feet (4.6-7.6 meters)
Dance 2 Honey-Bee-Bops SLOWLY
If Flowers are CLOSE
--10-15 feet (3-4.6 meters)
Dance 3 Honey-Bee-Bops FAST
If Flowers are VERY CLOSE
--less than 10 feet (3 meters)
Dance 4 Honey-Bee-Bops VERY FAST