Students will enjoy working with the dry pasta to create unique, beautifully textured holiday wreaths that will bring cheer to any door or wall.
What You Need:
Round cake boards, one per student
Scissors
Hole punch
Tacky glue
Dry pasta in a variety of shapes and sizes
Newspaper
Spray paint in silver, gold, red, or green
Ribbon in holiday colors
Optional: photo of each student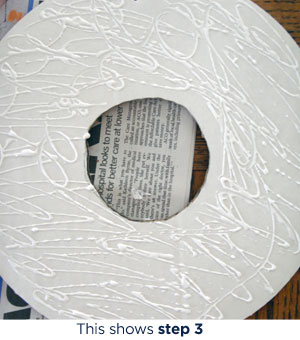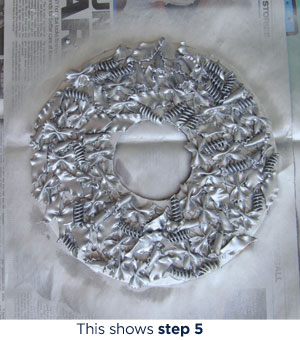 What You Do:
Hand each student a round cake board and have them cut a circle in the center of it so it looks like a doughnut.
Have students punch a hole towards the top of the board.
Have children generously apply tacky glue all over their boards.
Students glue various shaped pastas all over the boards.
Place wreaths on newspaper in a well-ventilated area. For younger students, let them select a color, then spray paint their wreaths for them. Older students may spray paint their own wreaths. Leave the wreaths alone to dry.
Loop ribbon through the hole to hang the wreath.
Optional
When the wreath is dry, have students arrange their photo in the middle of the circle by tucking the corners of the photo between the pasta and the board.