By Rachel Laskow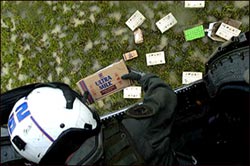 Timothy Sullivan drops food and milk to waiting refugees displaced by the tsunami.
(Photo: U.S. Navy photo by Photographer's Mate Airman Patrick M. Bonafede)
January 6—Just nine days after a tsunami struck six South Asian countries, the international community has pledged more than $2 billion in aid. But despite the enormous contributions, tens of thousands of people have not yet received help.
Heavy rains, floods, crowded hospitals, and impassible highways are just some of the barriers that have delayed the delivery of food and medicine. In some places, roads have been washed away, making it very difficult to transport supplies.
"We are making extraordinary progress in reaching the majority of the people affected in the majority of the areas," said United Nations (UN) Emergency Relief Coordinator Jan Egeland. "We are also experiencing extraordinary obstacles in many, many areas."
The UN estimates that the disaster left 5 million people in need of some form of aid. Millions of people are now homeless, and an estimated 500,000 people are seriously injured. In Indonesia, one of the hardest-hit countries, refugee camps are being built for the nearly 500,000 people who lost their homes.
"Survivors have nothing," said Red Cross health specialist Caroline Dunn. "Shelter, food, clean water, and medicine—all are lacking."
Egeland believes that the total cost of the devastation will be in the billions of dollars. "An enormous relief effort is under way," he said. "We may only know the full extent of this tremendous emergency weeks from now."
Australia became the most generous donor so far when it increased its pledged aid package to $764 million. Germany has offered $674 million.
Money isn't the only thing the countries need from this humanitarian effort, which is one of the largest in history. Countries still need more trucks, helicopters, aircraft, landing craft, base camps, fuel stores, water treatments plants, and generators, Egeland said.
The U.S. has already promised to double the amount of helicopters in the area, from 46 to more than 90. Helicopters are one of the best ways to get food, water, and medicine to parts of the countries where roads are cut off.
If supplies do not arrive in some areas, disease could kill tens of thousands more people. The World Health Organization (WHO) has already received some reports of malaria in Thailand. Polluted drinking water is also expected to be a source of disease.
"It is a race against time," said a WHO spokesman.
An international meeting about tsunami relief begins Thursday in Jakarta, Indonesia's capital city. Attending the summit are U.S. Secretary of State Colin Powell, UN Secretary-General Kofi Annan, Australian Prime Minister John Howard, Chinese Prime Minister Wen Jiabao, and Japanese Prime Minister Junichiro Koizumi.