These festive hats are easy to make and fun for students to wear both in and out of the classroom.
What You Need:
White paper plates, one per student
Pencils
Paint in various fall colors
Paintbrushes
Scissors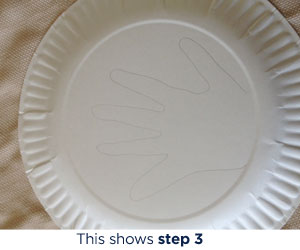 What You Do:
Have students place their paper plates right-side up on the table.
Children should place a hand on the paper plate, so the bottom of their palm aligns with the bottom of the inner circle of the plate.
Students then trace their hands. (They should not trace on the outer rim of the plate.)
Students paint their handprint any colors they choose, and with the thumb section as the head and neck of the turkey.
The scalloped rim of the paper plate can be painted with any color.
Allow plates to dry.
Have students carefully cut around the handprint turkey without cutting the outer rim of the plate. Take care to leave the bottom of the turkey attached to the rim of the plate. (Younger students may need help with this step.)
Fold the turkey up at the base of the palm. It will look similar to a page in a pop-up book. The hat is now ready to wear.
More Hat Ideas
These hats can be made for many other holidays, too. Cut hearts for Valentine's Day, shamrocks for St. Patrick's Day, eggs or rabbits for Easter, snowmen for winter, dreidels for Hanukkah, or trees for Christmas.