Frida Kahlo was born on July 6, 1907, in Coyoacan, Mexico, to Guillermo Kahlo and Matilde Calderon de Kahlo. At the age of seven, she was stricken with polio, confined to bed for nine months, and left with a shrunken right leg and a limp. At the age of 18, she was in a horrible bus accident that is too nightmarish to describe here.
It's a miracle that she survived and that she was able to produce any art, considering the constant pain she was in throughout the rest of her life. That her paintings are among the most beautiful and original art ever created is a monument to Kahlo's indomitable spirit and willpower. That her paintings continue to be exhibited in museums all over the world and are reproduced in books, on posters, and even in advertisements is proof of her lasting popularity.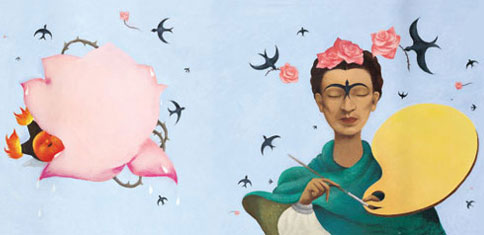 Kahlo's popularity, which has been increasing steadily over the years since her death on July 13, 1954, began to grow when she married the world-renowned Mexican muralist Diego Rivera in 1929. Their personalities were both so colorful, and their love for each other so intense, that their marriage remains one of the most famous of the 20th century.
But it wasn't merely Kahlo's association with the celebrated Rivera that sparked an ongoing public fascination with her. Her painful story is so inspirational that she has become a role model for artists in general, who often must work under difficult conditions. She has specifically been an inspiration to women artists, who have found in Kahlo's strength, courage, and pizzazz an example of how to thrive as a woman in an art world dominated by men.