By Genet Berhane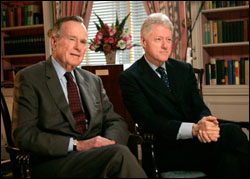 Former Presidents George H.W. Bush and Bill Clinton film a public service announcement on January 5 in the White House Library, encouraging the American people to make cash donations to the tsunami relief effort.
(Photo: White House photo by Eric Draper)
On Screen: Former U.S. Presidents George. H.W. Bush and Bill Clinton seated next to each other in the White House library. Together, they appeal to the American public, encouraging donations to assist in tsunami relief efforts.

President Bill Clinton: "The greatest source of America's generosity is the good heart of the people."

President George H.W. Bush: "In the aftermath of the devastating tsunami, we come to you not as Presidents, but as two private citizens."

President Bill Clinton: "Everyone can help, and every dollar contributed will impact someone's life."


January 10—The above is from one of a series of public service announcements (PSAs) filmed by The Ad Council, a not-for-profit organization that produces, distributes, and promotes public service ads. The ads appear on television, radio, newspapers, and the Internet for no charge.
A National Appeal
In the days following the destruction caused by the tsunami, President Bush asked former Presidents George H.W. Bush and Bill Clinton to reach out to the American people in a national fund-raising effort. The series of PSAs, part of the Ad Council's Tsunami Relief campaign, play an important role in the fund-raising effort. The ads were created through the volunteer services of McCann-Erickson (a New York ad agency). Each of the PSAs features the two former Presidents, as they encourage Americans to make cash donations to organizations involved in relief and rebuilding efforts.
"Private citizens are showing their compassion in creative and inspiring ways," President George W. Bush said when he announced the PSAs. "On a rainy day in Washington State, children sold hot chocolate by the side of the road and gave their profits to charity. Seven professional basketball players pledged to donate a thousand dollars to UNICEF for every point they scored in a game. American businesses have contributed cash and products, and many are matching donations by their employees."
Each announcement by the two former Presidents encourages people to get involved in the relief effort. People wanting to make a donation will find a list of trusted organizations accepting aid at a new Web site for the USA Freedom Corps that was set up by the government.
Kids Can Help
The USA Freedom Corps is an organization created to improve America's communities and this country's contribution to the rest of the world. The
USA Freedom Corps Web site
helps connect individuals with volunteer opportunities.
Kids can also get involved. Check out the
USA Freedom Corps for Kids Web site
for ways that you can make a difference.