Trying to figure out the best way to set up your classroom? Click the link below to access a printable seating chart from Scholastic Teachables, and use it to help you map out the different configurations you have in mind. Good luck!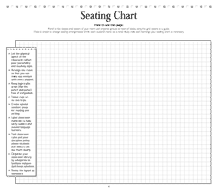 This printable is excerpted from The Scholastic Teacher Plan Book by Bill Singer and Tonya Ward Singer.
Try Scholastic Teachables FREE for 30 days and get access to more than 20,000 printables, lessons, mini-books, activities, and more.