Soon the school year will be coming to an end, and before then I plan on involving my students in a few activities to ensure it is a memorable time. I invite you to read about my ideas, and incorporate the ones you like into your own end-of-the-school-year plan or even stash a few away to pull out next year!
Field Trips
Some teachers enjoy field trips because they provide a hands-on opportunity for students to learn concepts they have been working on in the classroom. We have been on two memorable field trips two weeks apart.
The last day of April was an incredible opportunity for our class as well as the fifth grade advanced class to enjoy the Florida Museum of Natural History and the University of Florida in Gainesville. Our class toured a science lab, a part of the Energy Technology Incubator, and walked through the butterfly garden at the museum. We also viewed the many exhibits there that anyone can see for free. Perhaps the greatest moment was visiting Ben Hill Griffin Stadium (Florida Field) and taking a group picture.
Some of my students also went on a field trip to St. Augustine where they climbed the 219 steps of the St. Augustine Lighthouse, went on a trolley tour through the city, explored St. George Street with their chaperones, toured the Castillo de San Marcos, and had a tremendous time exploring Ripley's Believe it or Not museum. They also met their pen pals from W.D. Hartley Elementary School in southern St. Augustine while enjoying their lunch. It was my sixth time taking students to St. Augustine, and the field trip could not have gone any smoother. The photos and videos from the trip will be used for a variety of purposes in the next few weeks, from inserting them in a thank you care package for the pen pals to giving them out to parents.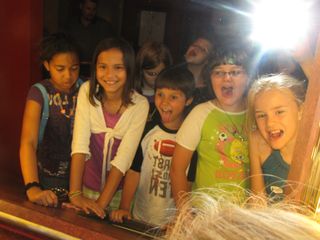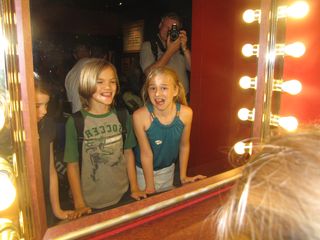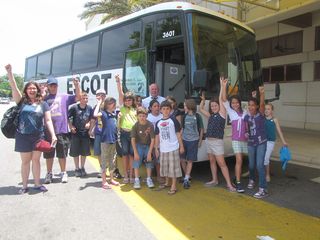 No, it was not a bird or a plane, it was one of my students still climbing the lighthouse
Video Making
Recently, in preparation for the bus ride on our St. Augustine trip, I made videos with music that incorporated clips of the students I filmed over the course of the school year. This included watching a speech by Barack Obama in September, their trip to the environmental center in November, and reading "Twas the Night Before Christmas" to their kindergarten Book Buddies. I used Adobe Premiere Elements 7.0 to make the videos and Audacity for the parts where I recorded my voice. I was surprised by the clarity and quality of the video when I transferred it to DVD. I highly recommend the program.
Of course, you can burn DVDs for parents, but it takes quite some time — it's your choice. I have never burned DVDs for parents because the process sometimes takes as long as twenty minutes.
End of the Year Celebration
The end of the year awards ceremony and celebration will be held in early June. As soon as the students come in that morning, they will be served a delicious breakfast the parents and I will prepare that includes pancakes with maple syrup, bacon, muffins, and juice. From there, they will share their blank books that they have been working on this month adding illustrations and special touches, and finally publishing. Students will read excerpts from the books as well as showing off their handiwork. I came up with my celebration from Beth Newingham's website, and added in the breakfast.
The room will be adorned with the students' photographs from over the course of the school year, which will be displayed on the board and placed on desks covered with tablecloths (possibly nice fabric purchased from Wal-Mart) in budget-friendly wooden frames (about five in a package for approximately $3.00 each) from Home Goods.
I have been working on a PowerPoint presentation all year that includes over 500 slides and lasts about 45 minutes. Memorable songs accompany the pictures. My favorite parts of the slide show are always the beginning and end: the beginning includes shots from when they were younger, and the end always includes a dedication slide for each student. Here is an example of a photo I have had for many years of a few of my current students as well as a dedication slide from last year's slide show: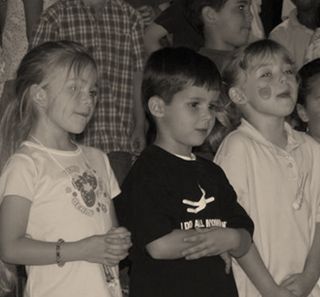 A few of my students in kindergarten, 2005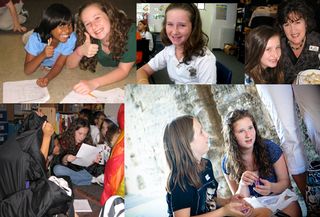 Slide from last year's slideshow
I have also been preparing a yearbook at Mixbook.com for the past few months. Though the book itself is private online, here is one of the screen shots:

Although the book will cost at least $20.00, it was a far easier way of capturing memories of this past year than scrapbooking. The Web site includes various layouts, backgrounds, and graphics for use on your pages, and allows you to create your own original layouts as well. Your book can be as many pages as you desire (mine is so costly because it runs over 30 pages), and, at the time of printing, you can choose either hard or soft covers. If I have the book ready by the end of the year celebration, it will be available for parents and students to flip through. In any case, parents will be provided with a link to purchase the book if they desire.
I write each student a one-page letter and have them write me a letter as well. Additionally, they make memory books, which consist of a few pages and include group pictures from the class, that other students sign. They use construction paper, white paper, and photos I provide them.
Movies
Due to end of the school year meetings I will be attending, there will be a few substitute teachers in our class. For a few of those days, my students will watch movies based on chapter books such as The Tale of Despereaux and The Chronicles of Narnia: The Lion, the Witch, and the Wardrobe. On those days, they will also read a short excerpt from each book and fill out a form where they will be required to summarize the movie and include character names, character traits, and their understanding of the theme.
Play
Plays are an exciting activity when you are a fourth grade student in Jasztalville. Next Monday will be our end of the year St. Augustine play that will last about 45 minutes. We have been preparing for the play for the past few months and it will be performed on the stage in the cafeteria in the evening. Students will wear all kinds of costumes and some will wear dresses or shirts with ties and jackets for their role. After the play, the class will have a cast party that will include a cake resembling the Castillo de San Marcos. We will have displays from our St. Augustine trip that evening and there will be a formal "Who's Who" board that will include each student's photo with a short biography. Though our play is not on a professional caliber and our lighting and sound equipment are not the greatest, everyone enjoys it immensely! Here are some photos from last year's show: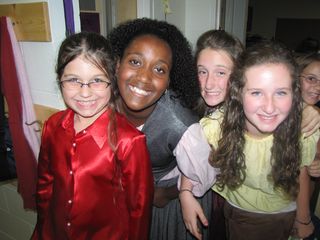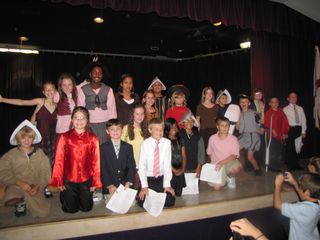 Make Math Hands-On
Very soon, I will have students work on model bedrooms to review area and perimeter using a surplus of cardboard I have on hand. They will make furniture to scale as well as paint their rooms or put "wallpaper" (scrapbook paper) on the walls. If I can acquire carpeting, they will have that as well. Extra cloth left over from previous events will be available for them to make curtains, and they can cut out pictures from magazines to make "posters" to hang in their rooms.
We may also construct bridges with straws to see if they can hold increasing weight in grams. I have done this project twice, but the model bedrooms will be a first — I am going to take a risk in the last few weeks of school!
Quiz Shows
The students will also compete in quiz shows in the classroom. We may do whole-class board games (which I made quite some time ago), games on PowerPoint, and games on DVD, such as Show Me The Wild from National Geographic.
Summer Science
I also host a science show on the lawn at recess the end of every year. The Totally Irresponsible Book of Science (recommended by Angela Bunyi) is a fantastic resource for off-the-wall outdoor projects that draws large crowds of curious students. We create soda geysers with Diet Coke and Mentos and make baking soda bombs in bags for starters. This year, I may also be making bubbles around students by using a hula hoop in a kiddie pool filled with a special solution. From there, we may also have a few events involving water. One very inexpensive water slide solution that I have not tried, but has been used by the fifth grade advanced teacher, involves a slick plastic sheet, dish soap, and water, with laminated poster boards on which the students slide.
Here are some websites where you can find exciting hands-on activities. The Science Olympiad link requires paying for a booklet.
I hope these ideas inspire you to end your school year with a bang!