Every year the third graders at our school celebrate their diversity by embarking on an international study of their ancestors. Students complete a research project in which they learn more about one of the countries from which their ancestors lived before coming to America. The project culminates in an International Festival during an evening event at our school.

Research Report
The geography of the students' countries, along with their countries' popular cuisine, holidays, festivals, clothing, system of education, sports, and language are all studied as students use reference books and teacher-selected websites to gain information that is ultimately used to create a book. Students spend lots of time in class using books and Internet resources to collect information on the countries of their ancestors. They first take notes on index cards, each card representing a different topic of research (clothing, food, education, housing, holidays and festivals, popular sports, governments, etc.) They then write rough drafts before finally transferring their research into a final report. The final books are displayed for parents and all other guests at the International Festival to enjoy.

Taste-Fest
Every country has favorite foods that are eaten by its citizens and some specific foods that are eaten only on special occasions. Students (with the help of their parents) are asked to make a favorite food from their country that will be served at the "taste-fest." We provide parents with websites that have international recipes if they do not have any of their own. When deciding how much food to prepare, we remind parents that it is just a "taste-fest." We ask that food be served in small sample portions for approximately 50-60 people. All recipes are collected and are used to create an International Cookbook. All families receive a copy of the cookbook so that they can make any of the delicious foods that they enjoyed at the Taste-Fest. We also create passports for all visitors that list the names of the countries being represented at our festival. As students and parents try foods from the many different countries, they can check off those countries on their passports. This encourages students to try as many different types of food as they can.

Costumes
Parents are asked to help their children put together a costume that reflects the country they are studying. The costumes are worn during the night of the International Festival where the students take part in a musical performance that also includes a fashion show.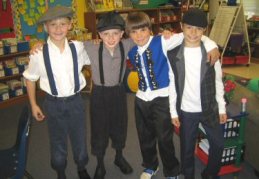 Students dress as their ancestors for the International
Festival's fashion show.

Music Performance/Fashion Show
On the night of the International Festival, we decorate the stage in our cafeteria with flags of the world and other decorations that celebrate the many cultures of the world including a huge Chinese Dragon made with balloons, a light-up Eiffel tower constructed by a parent, and other things we can collect or make. We work with the music teacher in the school to sing four songs that celebrate our diversity. In between the singing, we call students' names from each country and have them "strut their stuff" on a catwalk that we construct off the front of the stage. While students from each country are showing off their great costumes, we play music from their country. After they have their turn on the catwalk, students go to the microphone and share an interesting fact about their country before returning to their place on the risers.

We have been doing this International Festival at our school for the past four years, and it has already become a favorite tradition for parents and students alike. It is often my students' best memory of the school year and is one they will likely never forget. Not only are my third graders provided with their first authentic research experience, but they are also encouraged to embrace their diversity and respect the differences amongst their classmates.